From the day Athletics Director Lisa Campos arrived at UTSA in the spring of 2018, she was putting together a game plan. Literally.
Much like UTSA President Taylor Eighmy, who was hired months before her, Campos could envision the vast potential that the university could have in San Antonio and beyond. As Eighmy and the institution put a strong emphasis on achieving the coveted Carnegie R1 research status, Campos and her staff set out to win championships and the hearts of a sports-obsessed community eager to embrace something bold and exciting.
The "Roadrunner Game Plan" placed a renewed focus on the student-athlete experience, a culture of excellence and a new era of community engagement. With those three missions in mind, Campos got to work.
"Five years ago, we put together the aspirational vision that we wanted to transform lives as San Antonio's nationally recognized Division I program," Campos recalls. "We've been fortunate to have university leaders, community leaders, donors, coaches, staff and student-athletes who also believe in that aspirational vision."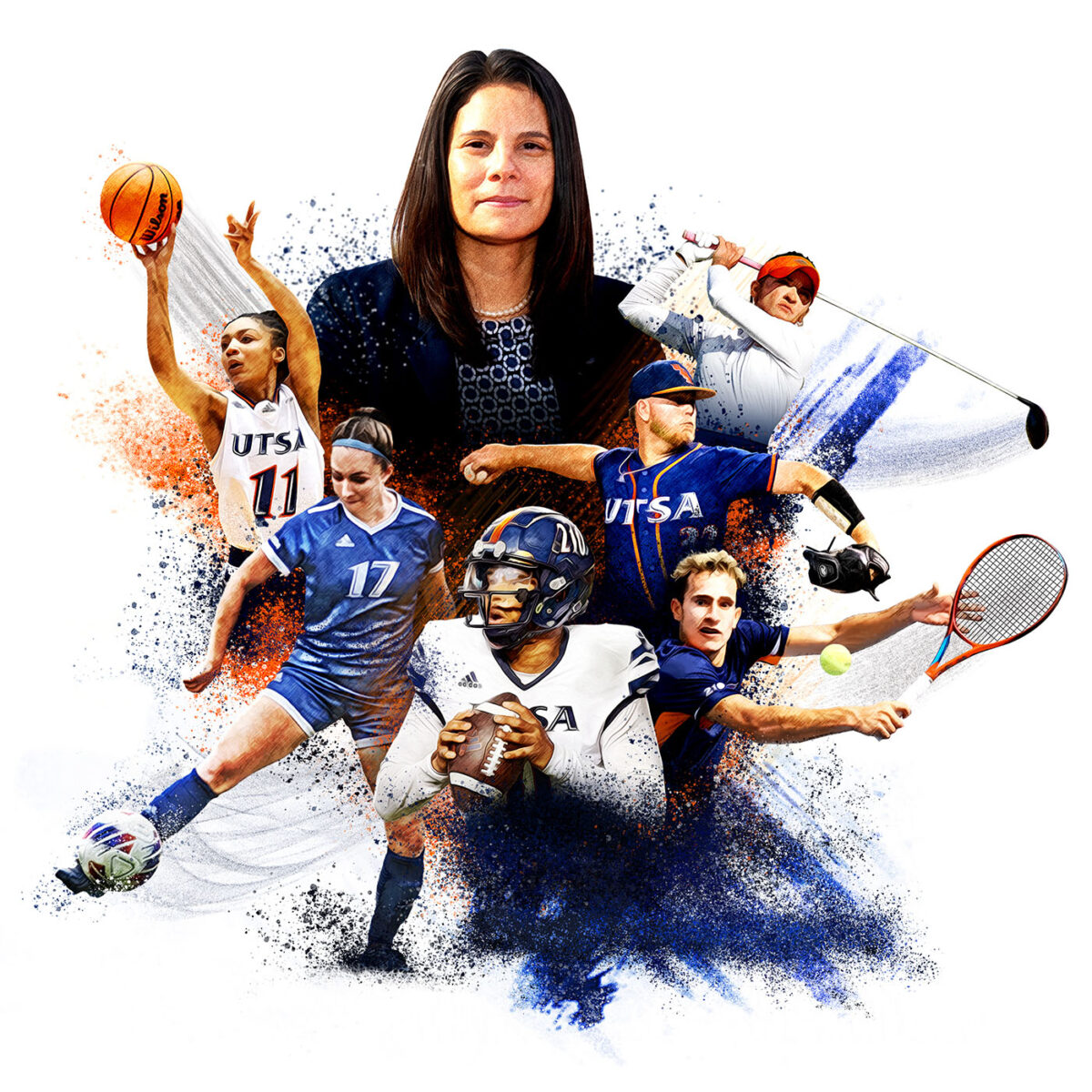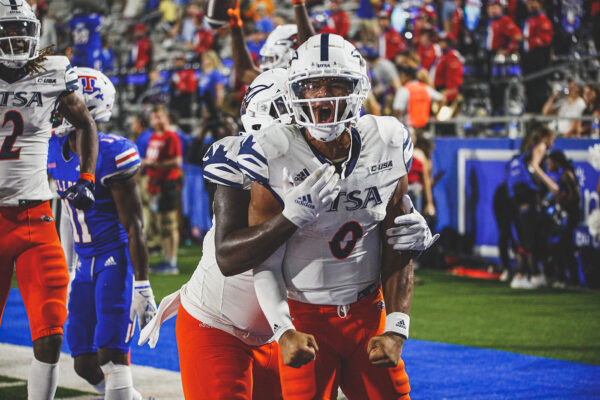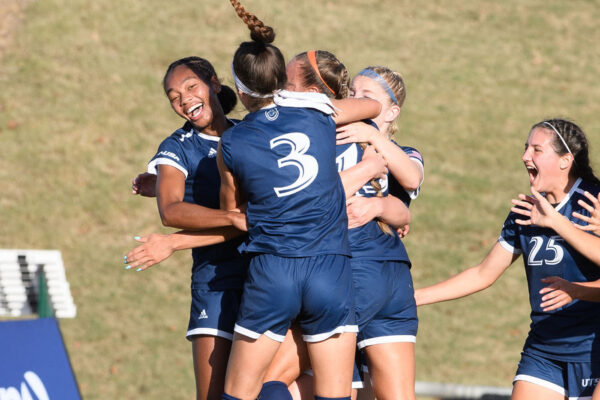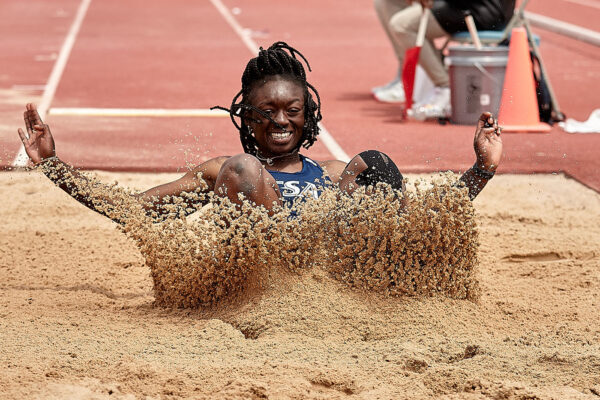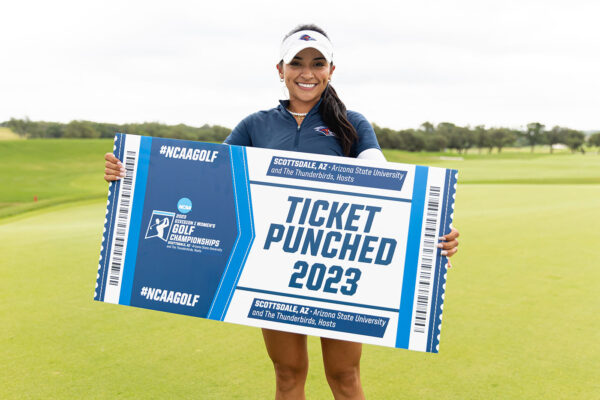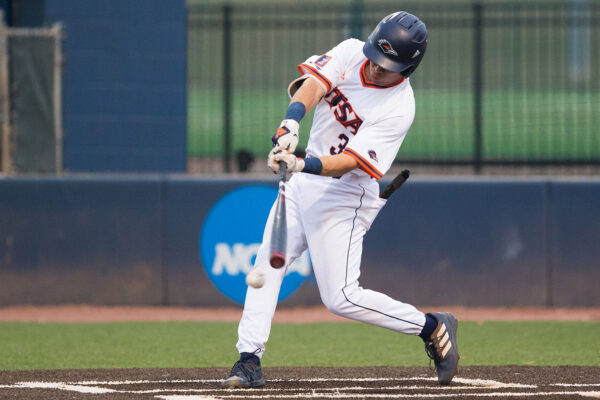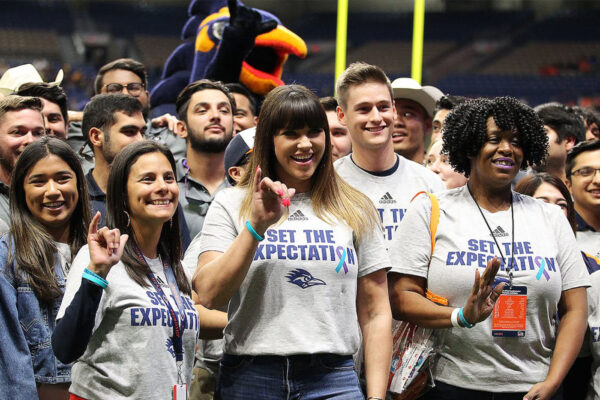 Campos collaborated with the city, county, donors and the Roadrunner Foundation to fund and construct the long-awaited Roadrunner Athletics Center of Excellence (RACE), the biggest piece in a strategy to enhance UTSA's athletics facilities. She hired up-and-coming coaches such as Jeff Traylor and Derek Pittman, who have already led the football and soccer programs to conference championships, as well as acclaimed coaches like Karen Aston, Pat Hallmark and Sergey Avdeyev, who are ushering in new eras for the women's basketball, baseball and men's tennis teams. And, in a watershed moment for college athletics and sports culture at large, she partnered with activist Brenda Tracy to adopt the most comprehensive serious misconduct rule in the NCAA.
These and other efforts over the past five years have given UTSA a new air of legitimacy for student-athletes, coaches and athletics staffers across the nation. The ripple effect made its way to the playing fields and courts, where the Roadrunners have thrilled fans both in the Alamo City and beyond.
"UTSA Athletics has been on a roll in recent years, attracting top-tier coaches, winning championships and investing in impressive new facilities," says San Antonio Mayor Ron Nirenberg. "And as the Roadrunners reach greater heights in multiple sports, San Antonio's support for UTSA gets stronger year by year."
"I hear the stories every day. Whether they're from New York or California, people are really paying attention to UTSA in a way they weren't before," Campos adds.
Like nearly all college athletic programs in 2020 and 2021, UTSA had to persevere through the pandemic's effects including lost revenue and necessary cuts to budgets and salaries across the department. Yet by the end of 2021, UTSA Athletics was experiencing a high previously unreached — celebrating its first-ever conference championship in football, enjoying its recently opened digs at RACE and preparing for a major move from Conference USA to the American Athletic Conference in 2023. Campos' peers have taken note.
SOMBRILLA EXCLUSIVE INTERVIEW
American Athletic Conference Commissioner Mike Aresco sat down with Sombrilla Magazine to discuss UTSA's addition to The American and the impact it will have on the university. Hear what he had to say in this video.
"UTSA's presence has elevated in a significant way since Lisa took over as their director of athletics," says Heather Lyke, athletic director at the University of Pittsburgh and winner of the 2023 Cushman and Wakefield Athletic Director of the Year award. "As we all know, it is never about one person, one coach or one student-athlete, but her leadership, thoughtful decision making, hiring decisions and overall vision to improve the program has been noticed and should be commended."
"In her five years, Lisa and her team have done an incredible job of building the UTSA Athletics brand in Texas and nationally," adds Mack Rhoades, athletic director at Baylor University. "She has made some great hires and has built an infrastructure that will sustain success into the future, keeping the UTSA name nationally relevant as an institution."
"I don't know that there's any place in Texas that has evolved more in the last five years than UTSA."
Bob Bowlsby, a prominent figure in college athletics, also feels that Campos and UTSA's constituents deserve commendation. He knows what it takes for athletic directors to thrive and institutions to make an impact. Bowlsby was the athletic director at the University of Iowa and Stanford University, guiding both departments to prosperous eras before serving as commissioner of the Big 12 Conference until his retirement in 2022.
"I don't know that there's any place in the state of Texas that has evolved more in the last five years than UTSA," Bowlsby says before swiftly turning his attention to the next wave of investment UTSA will need to excel in The American. "The worst thing for your laurels is resting on them. The university will have to continue to ploy for more resources and work to keep the right people in place."
Strategic action will indeed be necessary to gain ground in The American, and that effort is already underway. UTSA Athletics recently unveiled "Roadrunner Game Plan 2.0," with an eye on enhancing facilities and providing more support for student-athletes, coaches and staff. Meanwhile, UTSA Athletics, working with the university's office of Advancement and Alumni Engagement, has also launched the Bold Champions in The American fundraising campaign to help the Roadrunners keep pace in their new conference.
"We're not taking our foot off the pedal," Campos says. "We're going to keep moving forward."
At this crucial precipice, Sombrilla Magazine looks back at the university's recent athletic accomplishments, reflects on the Roadrunners' rising status in sports culture, and looks forward to UTSA's promising future in the American Athletic Conference.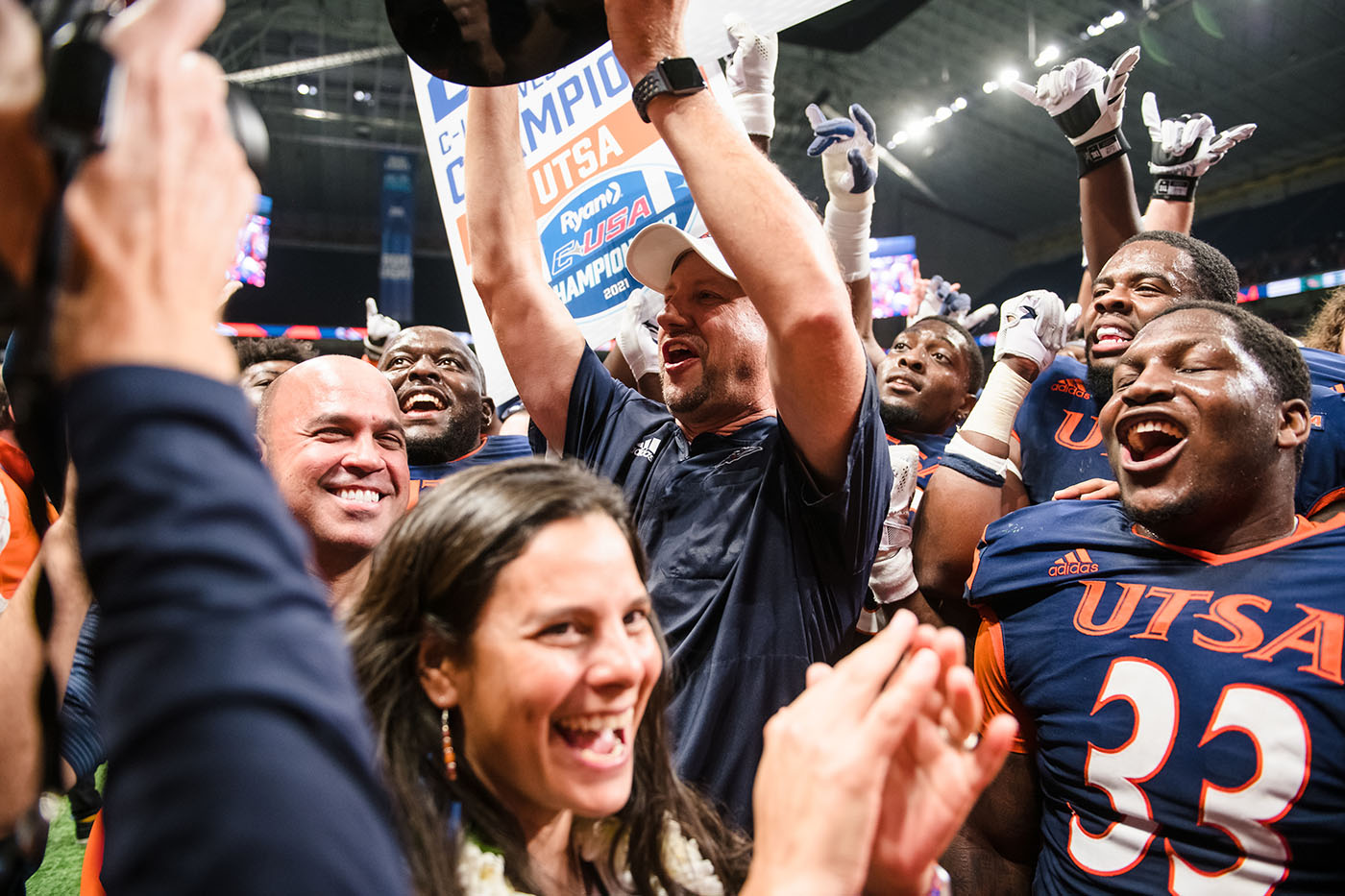 Speaking about the transition to the American Athletic Conference, Campos sees a parallel between UTSA's trajectory and those of the University of Cincinnati, the University of Central Florida and the University of Houston. Those institutions left The American this summer to join the Big 12 Conference, but not before undergoing a metamorphosis of sorts. All three universities called major metro areas home, joined The American with plenty of promise and with teams that would become legitimate national championship contenders in several sports. Those tremendous runs in athletics did wonders for those universities.
"We are now where they were 10 years ago," Campos explains. "They have elevated their profiles. And it all started in the American Athletic Conference with the investments that they made."
The move to The American will increase UTSA's visibility tenfold. Through the conference's television contracts, national audiences will be seeing the Roadrunners much more frequently on the ESPN family of networks. They'll see the tailgates splashed in orange and blue, they'll hear the unrivaled roar of the Alamodome crowd, and they'll experience the unique offerings of UTSA and San Antonio.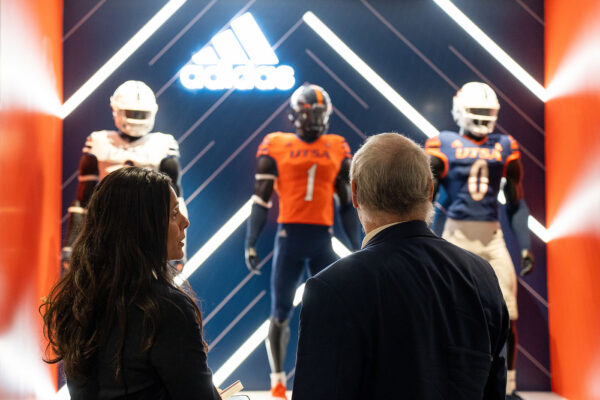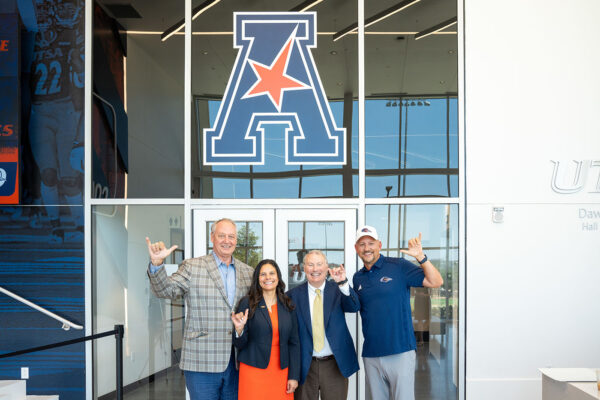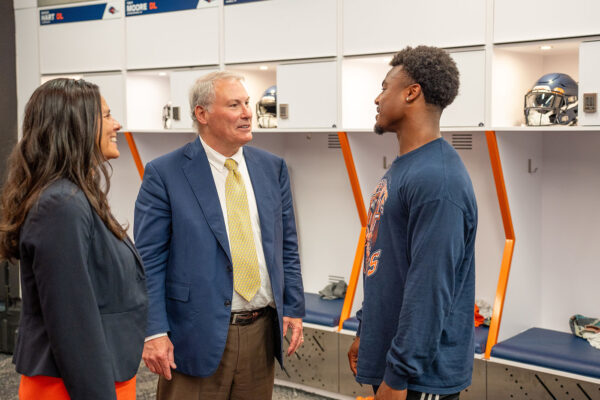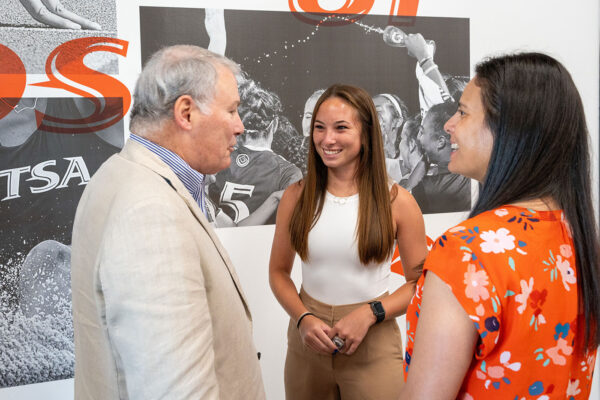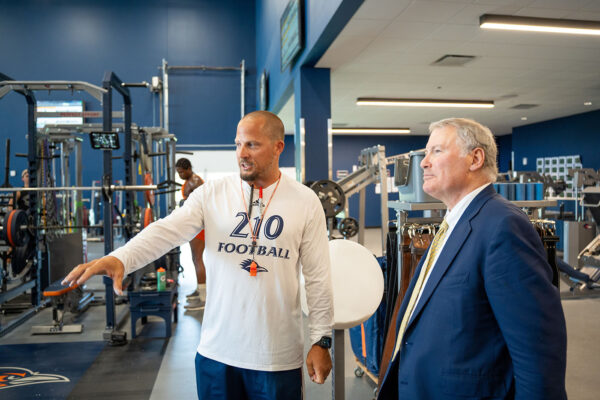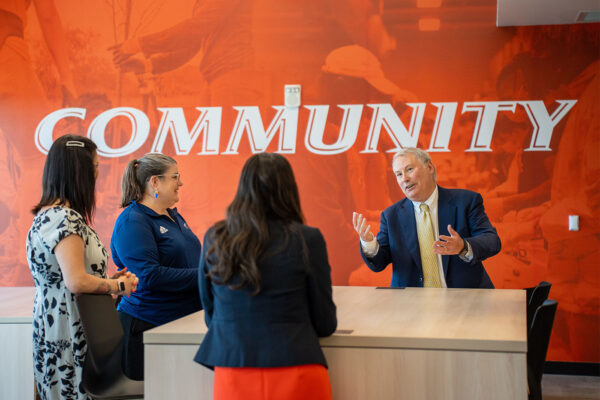 As UTSA rises to a more prestigious conference, Campos says, it will enhance the university's notoriety. And as UTSA is seen more frequently, viewers will be more mindful of the institution's presence and its reputation for excellence.
"The visibility and the exposure that the university is going to gain in The American will help us spread the UTSA brand across the country," Campos says. "It's going to help recruit very high-caliber students to our athletics department, and the increased recognition is going to help the university attract equally talented students, faculty and staff."
Campos is the first to admit that football marked the biggest sea change for UTSA. Traylor not only led his squad to back-to-back Conference USA championships in 2021 and 2022, he led UTSA to Top 25 rankings in both years. This meant more coverage on shows like ESPN's SportsCenter and College GameDay, where sports fans quickly connected with a Roadrunners squad that threw it deep, ran for absurd touchdowns and staged jaw-dropping comebacks, making "meep meeping" impossible to resist.

That interest in UTSA has spread to sports like soccer and baseball among many others. Campos hired coaches Pittman and Hallmark to lead those programs, and each have seen competitive successes lead to increased fan engagement.
"Everyone is feeding off of one another," Campos says. "From our coaches to our student-athletes, success breeds success."
"Everyone is feeding off of one another. From our coaches to our student-athletes, success breeds success."
The Roadrunners are surging as they make their debut in the American Athletic Conference. UTSA competes in 17 men's and women's sports and they're doing so at a high level. Here are seven recent sports success stories to give every Roadrunner fan optimism and confidence heading into UTSA's inaugural season in The American.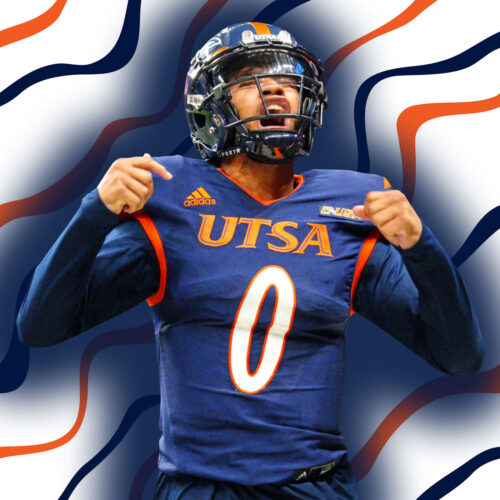 After breaking through with the program's first conference championship in 2021, UTSA Football won its second consecutive Conference USA title in 2022. Under head coach Jeff Traylor, with an offense led by record-breaking quarterback Frank Harris, the Roadrunners have been ranked in the Top 25 in each of the last two seasons and boast a combined 23 wins over that span. Only powerhouse programs Georgia, Michigan and Alabama have won more college football games than UTSA since 2021.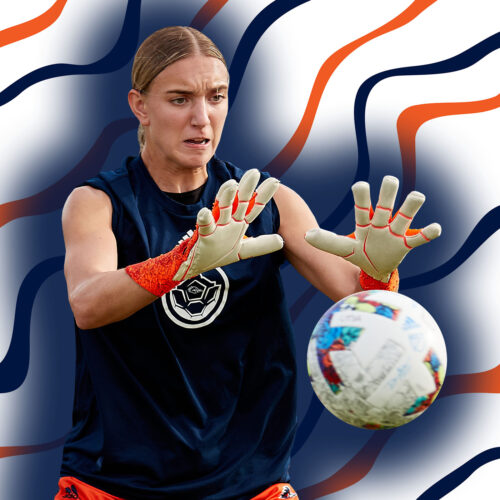 Under head coach Derek Pittman, UTSA Soccer won the 2022 Conference USA Tournament, earning the program's first conference championship since 2010 and a spot in the NCAA Tournament. Four Roadrunners earned tournament awards: Kendall Kloza was named the Defensive MVP; Anna Sutter was named the Offensive MVP; and Marlee Fray and Mia Krusinski were named to the All-Tournament Team.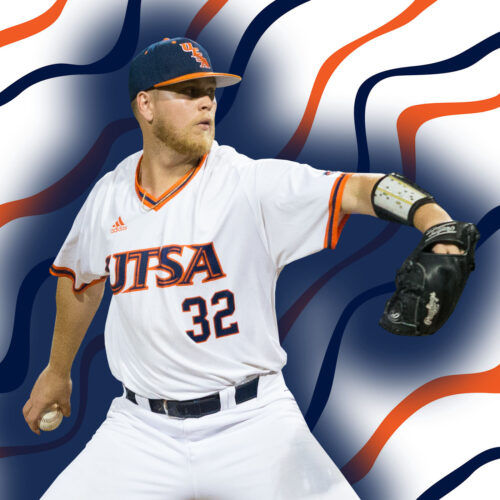 Guided by coach Pat Hallmark, UTSA Baseball earned its first ever Top 25 ranking this year and notched back-to-back 38-win campaigns in 2022 and 2023. Only the 1994 and 2008 squads, with 39 wins apiece, have earned more victories in a season at UTSA. A program-best eight Roadrunners earned postseason honors in 2023, including infielder Antonio Valdez and 2023 Conference USA Pitcher of the Year Simon Miller, who was recently drafted by the Cincinnati Reds.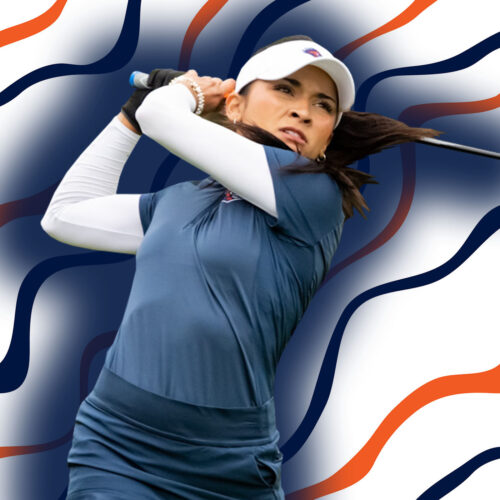 UTSA women's golfer Camryn Carreon won the 2023 NCAA San Antonio Regional individual championship, a history-making performance in which she blew away the rest of the field by six shots. A San Antonio native, Carreon became the first UTSA women's golfer to qualify for the NCAA Championships, competing for a national title in both 2022 and 2023.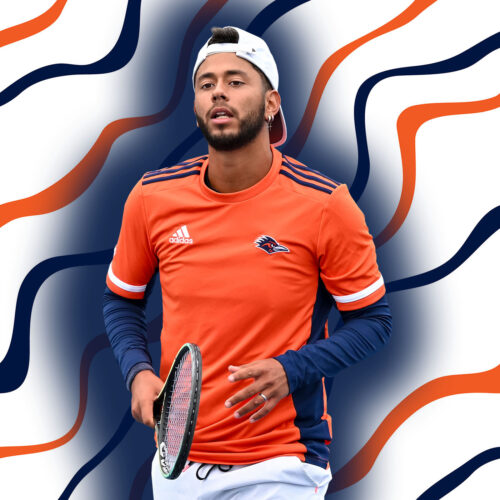 Led by 2023 C-USA Coach of the Year Sergey Avdeyev, UTSA Men's Tennis earned an at-large spot among the field at the 2023 NCAA Division I Championships, peaking at No. 34 in the national rankings during the season. With an 18-7 overall record, the Roadrunners accrued the most wins in a season since 1985. UTSA tandem Sebastian Rodriguez and Alan Magadan also reached the round of 16 at the NCAA Doubles Championships.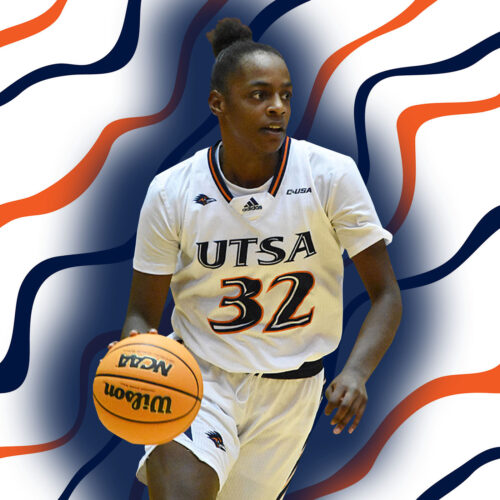 Decorated head coach Karen Aston is in the midst of rebuilding UTSA Women's Basketball and the early results are promising. The Roadrunners dashed to the 2023 C-USA Tournament semifinals, powered by Jordyn Jenkins, who was named the 2023 C-USA Player and Newcomer of the Year. In her first season at UTSA, Jenkins broke the program's single-season scoring record that stood for 32 years.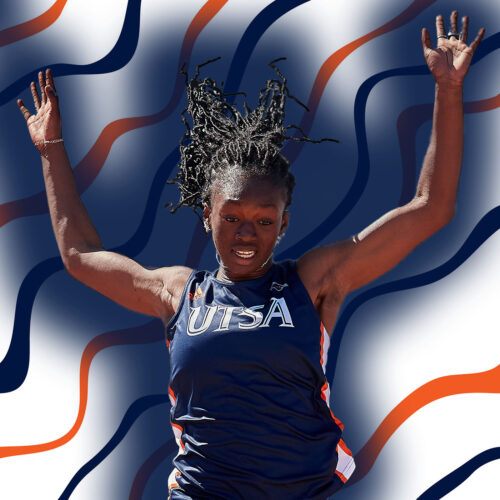 Four UTSA Track and Field athletes earned All-America honors at the 2023 NCAA Outdoor Championships. Men's decathlete Jack Turner and hurdler Bashiru Abdullahi were named first- and second-team All-Americans respectively and decathlete Joel McFarlane earned an honorable mention. On the women's side, long jumper Oreoluwa Adamson also tallied an honorable mention in addition to second-team honors at the NCAA Indoor Championships.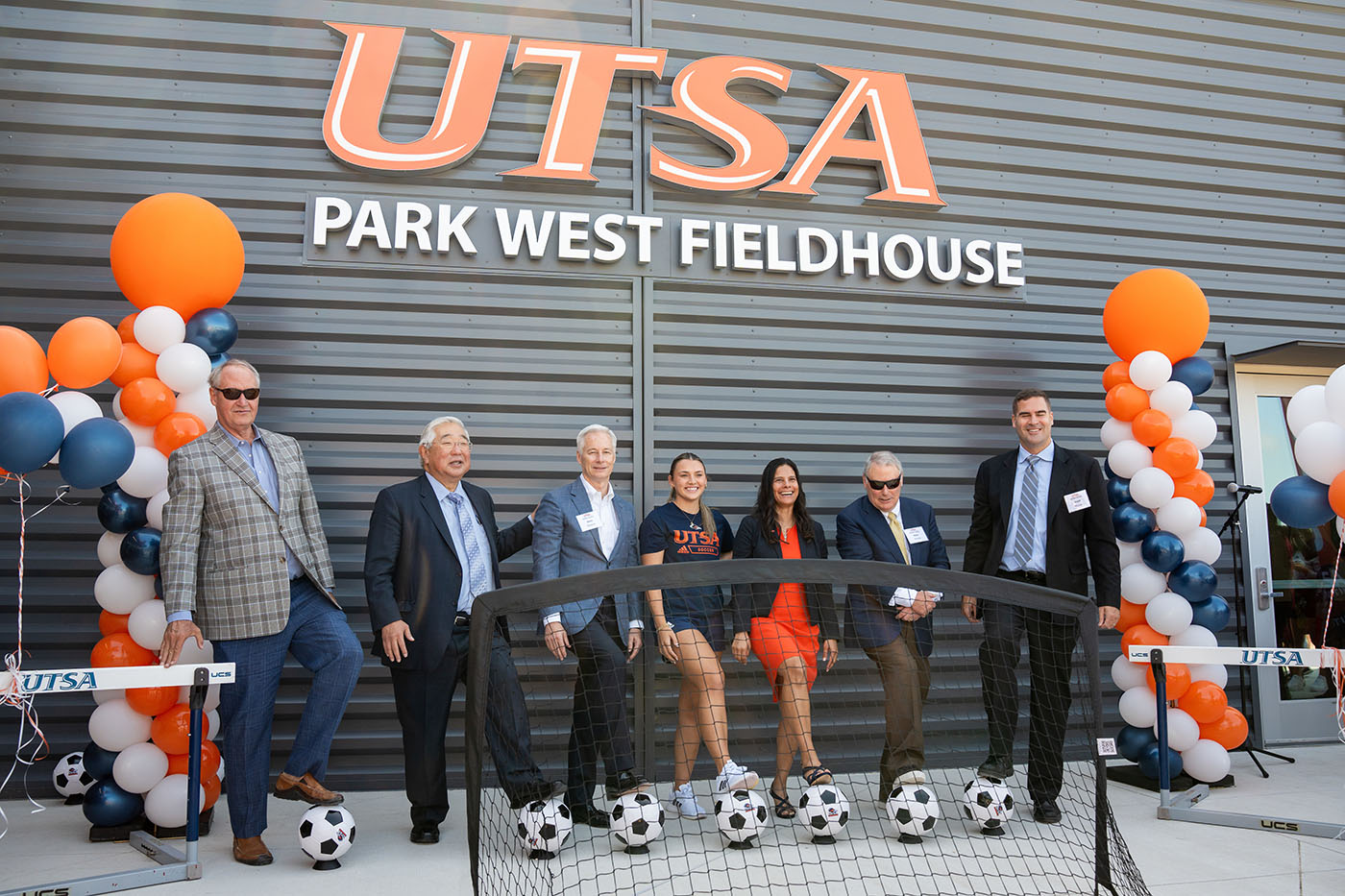 In her five years on campus, the grandest challenge in front of Campos was no mystery. To realistically compete with its peers, UTSA needed new athletic facilities.
"That's what our constituents want. That's what our coaches want. That's what our student-athletes want," Campos says.
And that's why the Roadrunner Athletics Center of Excellence — or RACE, for short — was such a massive revelation when it opened in 2021. The $40.4 million Main Campus athletic training facility changed everything. Constructed through philanthropic gifts, support from the City of San Antonio's bond referendum and financing from the Roadrunner Foundation, RACE provided UTSA's student-athletes with much-needed academic spaces, a sports medicine center, new strength and conditioning facilities, locker rooms, meeting rooms, an equipment room and new practice fields, as well as offices for staff and coaches.
The brand-new Park West Fieldhouse will carry forward that holistic support for UTSA's student-athletes competing in soccer and track and field. The facility, which opened this summer at UTSA's Park West Campus, was partially funded by $8 million from Bexar County. It provides a comprehensive athletic training facility with long-needed locker rooms, a sports medicine treatment space and a community room with a dedicated nutrition center. As part of its commitment as a community-engaged university, UTSA is making the Park West Campus available for public events such as athletics camps, competitions and clinics.
Notably, Park West will host The American's Track and Field Championships in the spring of 2024. "That wouldn't have happened without the addition of this building," Campos frankly states.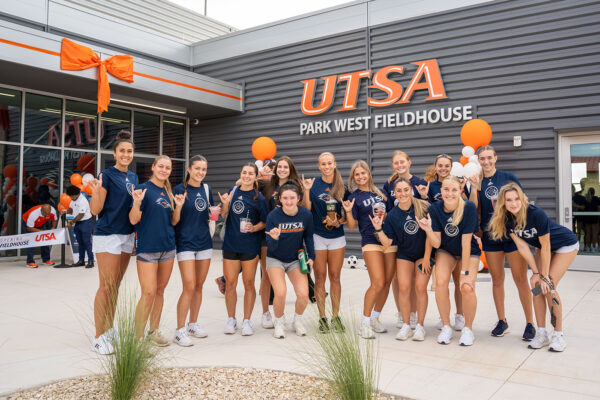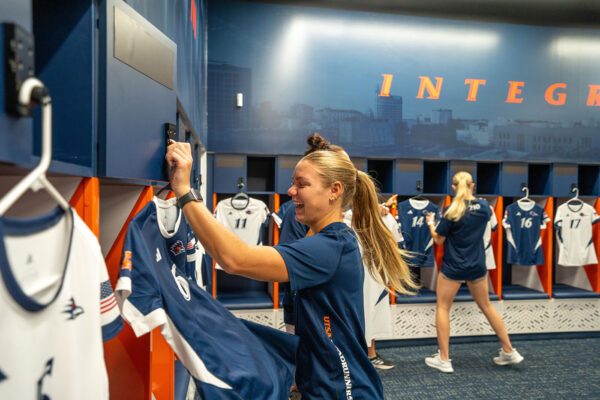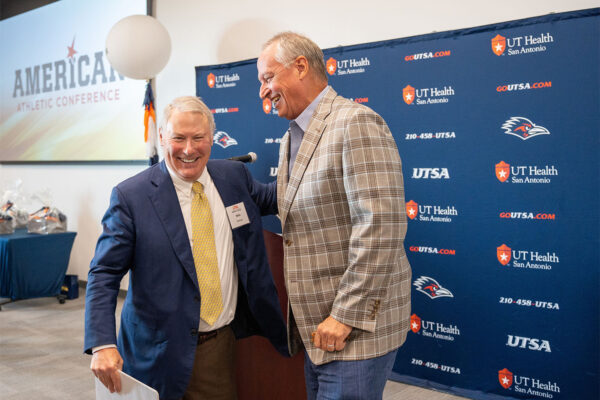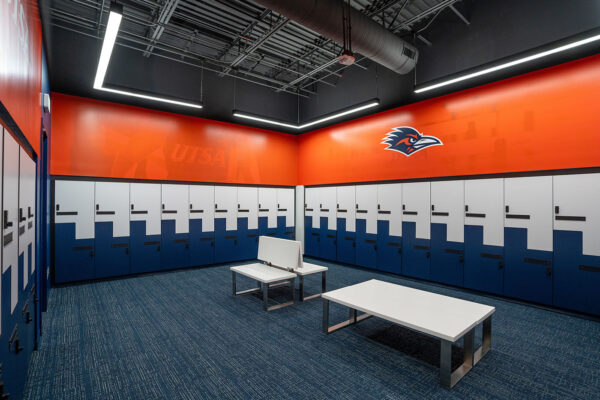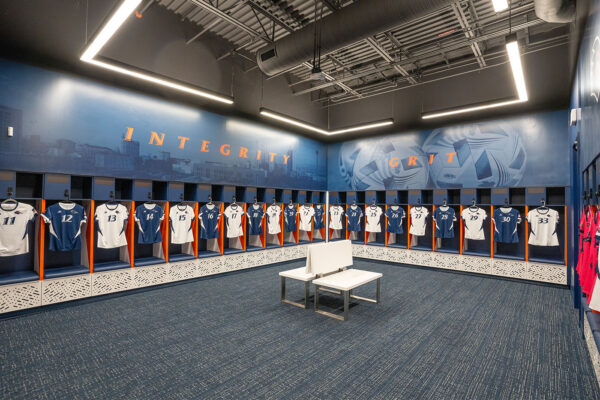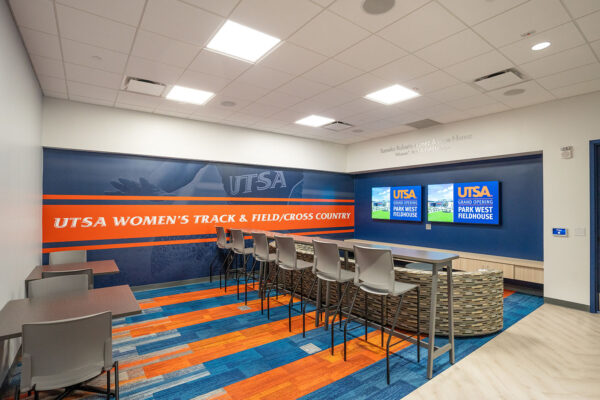 With support from the Bold Champions in The American fundraising campaign, the university is planning a new basketball and volleyball training facility connected to RACE at the Main Campus. This proposed 24/7 facility would provide two full-size NCAA practice courts prepped for volleyball and basketball in addition to many other amenities that would increase UTSA's competitive edge in recruiting and retaining the nation's best student-athletes and coaches. The city has already committed $5 million in funding for the proposed training center.
"These facilities prove that when the community, donors and the university come together, we can really make things happen," says Gene Dawson, president of the Roadrunner Foundation. "What's encouraging is that UTSA has the support of the alumni, the business community, the city and the county. Everyone knows how important this university is to San Antonio and its future — and all of those entities are pulling in the same direction for the first time in UTSA's history."
"These facilities prove that when the community, donors and the university come together, we can really make things happen."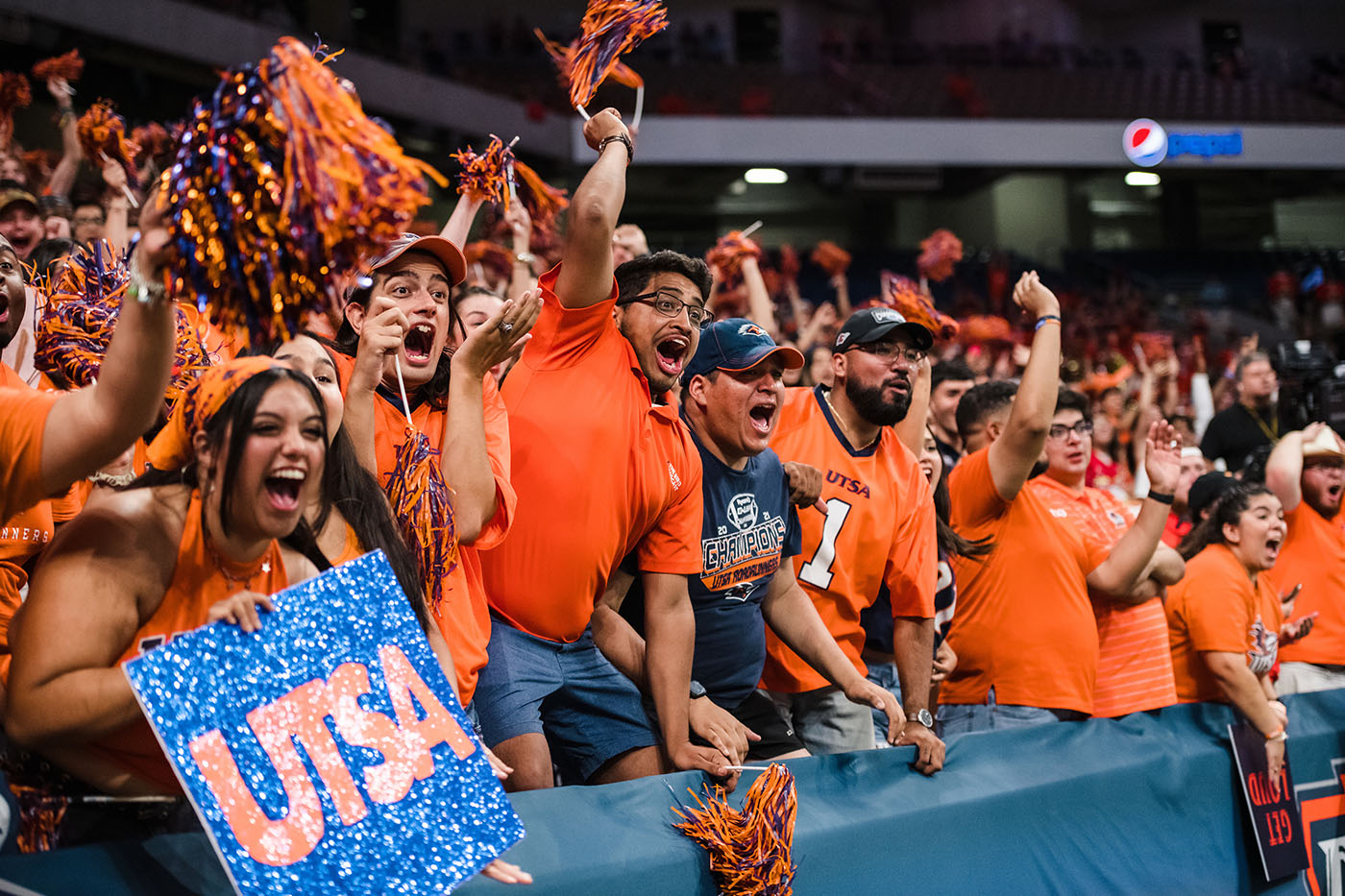 In the days before UTSA made its first appearance in the C-USA Football Championship Game in December 2021, it became clear that the city had fallen head over heels for the Roadrunners. At a time when storefronts and San Antonio landmarks would typically be decked out in festive holiday displays, small shops and large buildings across the 210 area code were aglow in orange to support UTSA leading up to the big game.
That love is still going strong. Fans packed the bleachers at the Arneson River Theatre for a rally celebrating 2022 conference championships won by the UTSA football and soccer teams. Earlier this year, citywide proclamations were made by Mayor Ron Nirenberg and Bexar County Judge Peter Sakai that February 10 would now be "UTSA 210 Day" in Bexar County. Take a look around San Antonio and you'll spot hundreds of blue and orange "Let's Go 210" signs on front lawns and more Rowdy heads on hats, shirts and jerseys than ever before.
"When I'm in business meetings, city meetings and bank board meetings, there's usually a conversation about something happening at UTSA today," Dawson says. "And it's not just athletics — they see that there's a lot happening at the university. The city realizes that UTSA is an important asset."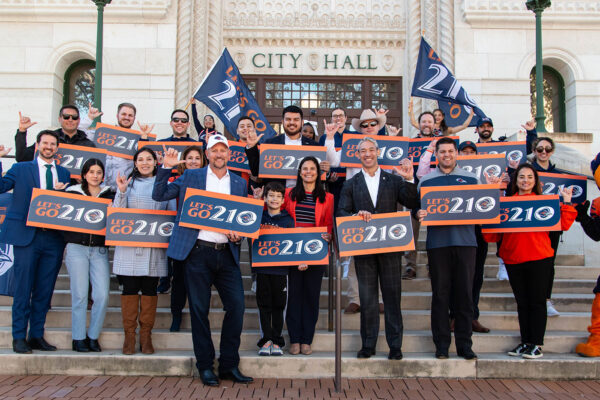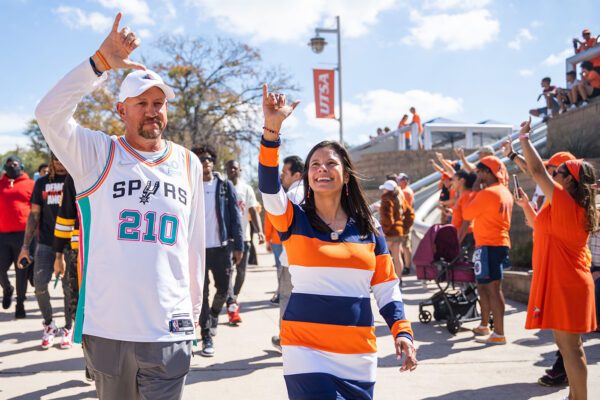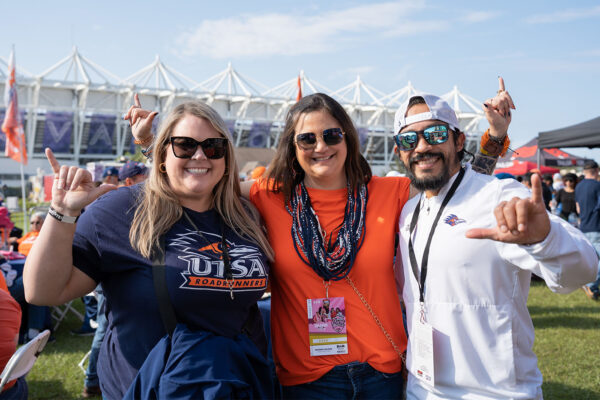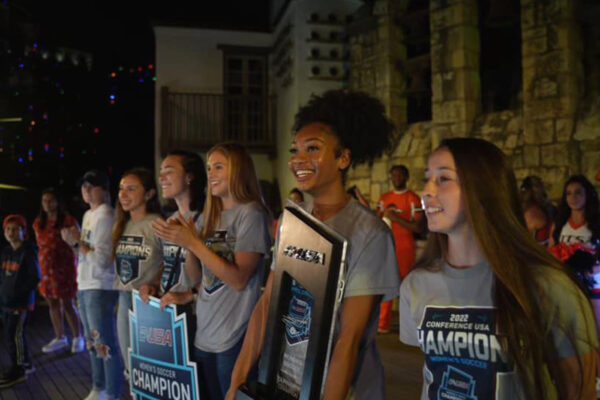 UTSA President Taylor Eighmy has long referred to Roadrunner Athletics as the "front porch of the university," and it turns out that front porch has some serious curb appeal. The recent string of athletics success has helped reshape and reinforce the university's identity. If the scintillating Saturday tailgates and soaring merch and ticket sales are any indication, San Antonio has truly discovered the joy of getting together to rally around the 'Runners. Even the alumni who attended the university long before it had football or soccer teams — or even a Downtown Campus — are boasting about the Roadrunners and taking more stock in their experiences at UTSA.
"There's a large alumni base, and as an alumnus, you want to feel like you belong to something special," Dawson says. "This engagement in athletics is what's helping UTSA build that special identity in the community, and in turn, the alumni are feeling more pride and they want to be a part of it."
As the university rides a huge wave of momentum in athletics, while simultaneously achieving top-tier research status and continuing its impassioned downtown development, it's hard to deny the transformation. UTSA has emerged as San Antonio's university — and one that the nation is certainly becoming more familiar with.
"UTSA's impressive ascension in research, academics and athletics has sent the message across the nation that San Antonio is a prime-time city with serious momentum," Nirenberg says. "The university's trajectory is spreading the word about San Antonio's noteworthy progress and bright future."
"The university's trajectory is spreading the word about San Antonio's noteworthy progress and bright future."