At this year's Fiesta Arts Fair, dozens of tiny hands were hard at work using rolling pins, smashing, squeezing and molding pieces of clay into fun shapes that fit their wildest imaginations. They created dogs, bowls of spaghetti, horses, nests and even Swiss cheese, all with intense focus and smiles on their faces. For UTSA Southwest educators, sights like this can be seen just about any day of the week as part of the school's community art programs.
In the summer of 2022, San Antonio's beloved Southwest School of Art, integrated with UTSA to create UTSA Southwest, continuing the school's legacy of fine art education for the San Antonio community. Along with the youth programs, the adult art classes have long been a favorite with a loyal following year after year with classes in a variety of media such as printmaking, weaving, glass sculpture and watercolor painting. Both the adult and youth art classes are a part of UTSA Professional and Continuing Education (PaCE).
UTSA Southwest is also building on a strong foundation to grow the Bachelor of Fine Arts program, now situated within the UTSA School of Art in the College of Liberal and Fine Arts.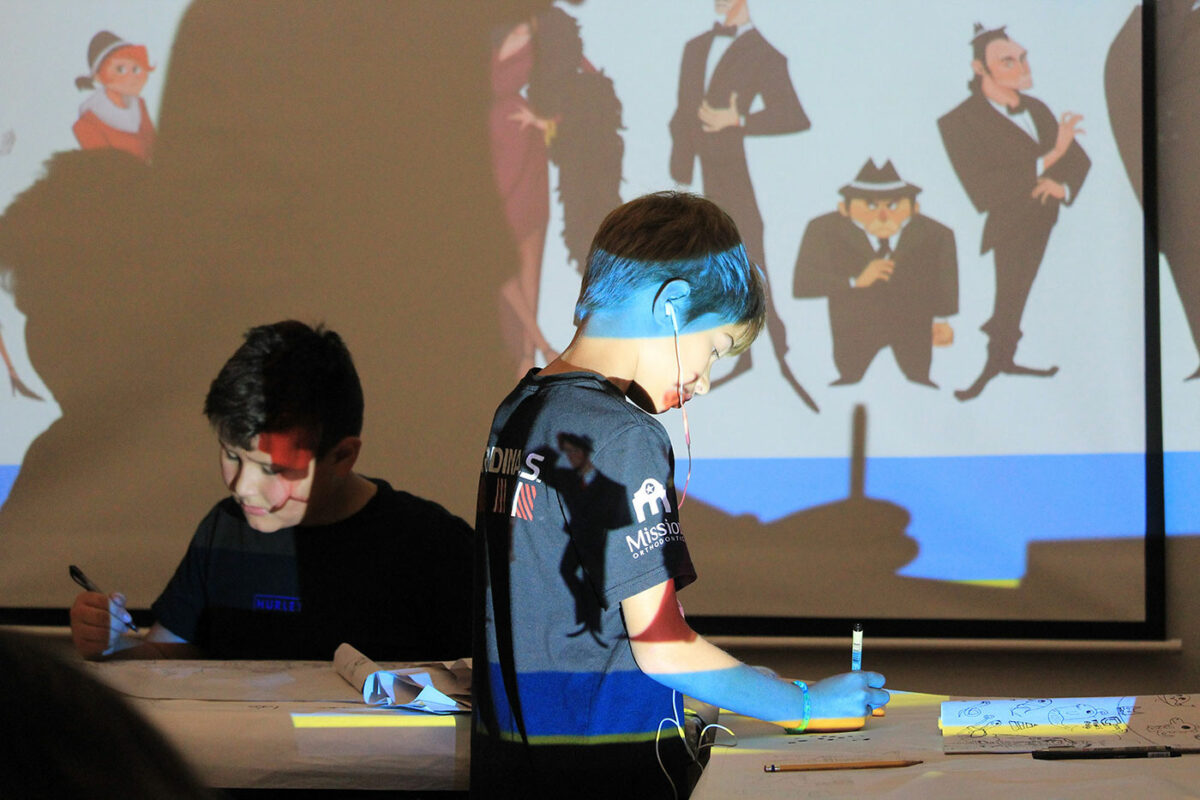 While the academic and community art programs grow, it is the rich legacy of youth art that has even more innovative programming than ever, both on the UTSA Southwest Campus and with partners across the city. Providing art education for youth has been an important priority in the institution's mission since the school's founding more than 50 years ago when a group of local art educators met at La Villita in downtown San Antonio to offer art classes on the weekends after discovering the lack of access to art education in some San Antonio communities. 
"Our mission is to create accessibility for the young artists of San Antonio and to have different access points to our programs," says Patricia Morales, UTSA Director of Young Artist Programs. "I think that being able to break down barriers at a younger age for our populations in San Antonio is important, and also getting them connected to an institution of higher learning at an early age is important."
On some days, families can be seen working with clay, painting or making origami. On others, teens gather in the Teen Studio Intensive after a long day of school to hone their art skills.
The programs offered include Saturday Morning Discovery, B-Movie Cinema Club, Kids Initiating Design Solutions (KIDS) Elementary Architecture Program, Teen Studio Intensive, the Summer Art Studio and the Nature of Art camps that are held at Confluence Park in partnership with the San Antonio River Foundation. UTSA Southwest also works with local school districts to assist with the programming.
 "Saturday Morning Discovery is our legacy program that started it all. It's a free two-hour program on Saturdays where families can sign up for a month at a time," Morales says.
Morales adds that the weekend program serves as an entry point into the other young artists programs and allows families to familiarize themselves with the campus. Those who are interested in exploring the arts even further can enroll in the Summer Art Studio classes, with over 100 courses taught by 40 local artists and art educators. It's the most comprehensive and largest K-12 summer arts experience in the city and has scholarships available.

Currently, UTSA Southwest community youth programs serve about 1,500 local students and another 500 youth in schools and social service agencies.
Self-portraits drawn by students of the Teen Studio Intensive Art Program at UTSA Southwest are on display on Broadway St. in Downtown San Antonio.
With the programs now part of UTSA, Morales says she has many hopes and goals for the programs to evolve.
"One of my dreams is to create a really intensive summer program for high school students who are interested in working on a portfolio to get into college," Morales says. "Getting the opportunity to experience something like that can really impact the trajectory of their education and creative pursuit. This program could be a direct connection to registration for the UTSA School of Art."
Morales emphasizes that the art classes at UTSA Southwest are having a big impact on students, especially as families search for new ways to improve the mental health of their children and teens.
"We know when students have access to creative processes, it shows them to be creative thinkers. Their critical thinking skills are heightened. Their ability to try something, fail at something and try again is really important," she says. "We want to encourage the youth to be individual thinkers. We want them to be able to use their voice."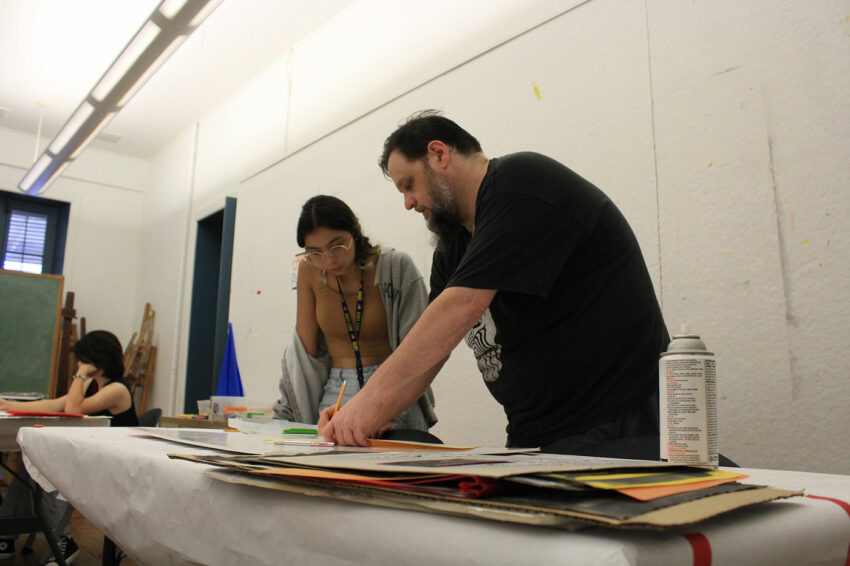 "After being in the program, their students feel safe, creative, respected and successful. The trajectory of these student's lives has been totally changed by the program."
For Gianna Carruth, a freshman at the North East School of the Arts High School, the teen program has been a meaningful experience.
"This is a safe space for me. I really come here to escape and get away from school work and life as a teenager. I just love that I can work on my art and that's it," Carruth says. "I think what drew me to this program was the creative freedom we're allowed to have and explore. We can express our own thoughts and feelings."
Morales, who has been working on the programs for about 10 years, says she's seen and heard firsthand the impact these programs have on the youth.
"We've seen so many students flourish. Probably the ones that have been most meaningful have been our teen programs," Morales says. "A lot of our youth have been going through a lot with COVID, stuff going on in their community, and their identities. We've had parents tell us we have saved their children's lives. Before this program they were worried about what their student may
do to themselves or may be faced with. After being in the program, their students feel safe, creative, respected and successful. The trajectory of these student's lives has been totally changed by
the program."
"Seeing their growth is the most rewarding thing," Morales continues. "Seeing the joy they get to have when they show off their work to the people they love and seeing the personal growth they have as just people — I think that is the most rewarding thing I've seen."