In the two years since he graduated from UTSA, James Misutka '21 never expected to be riding in a helicopter across Michigan and Alaska rescuing people from fires or wading waist-deep in the Rio Grande and San Juan River basins in New Mexico to monitor watersheds. "Sometimes I feel like the luckiest person in the world because of the things
I get to see and do or the places I get to go," Misutka says.
When the Plano, Texas native graduated from UTSA with his B.S. in environmental science, he knew he wanted to be immersed in nature to make a difference, but he wasn't sure what that would look like.
"I started talking to other people that were in the field and how they got their start. I felt more and more pushed toward the federal work service because I saw how many more opportunities there were," he says.
In the fall of 2022, Misutka joined the U.S. Forest Service through its Recent Graduate Pathways Program. Misutka was one of nine people hired from different parts of the United States to work at the Mark Twain National Forest in Rolla, Missouri.
"We were each assigned our own district. I worked with two other individuals in the Poplar Bluff/Eleven Point Ranger Districts, which is the more southeastern portion of the forest," Misutka says. "We were hired to work with the different project areas that the forest provides, which included recreation, wildlife biology, trail maintenance and engineering."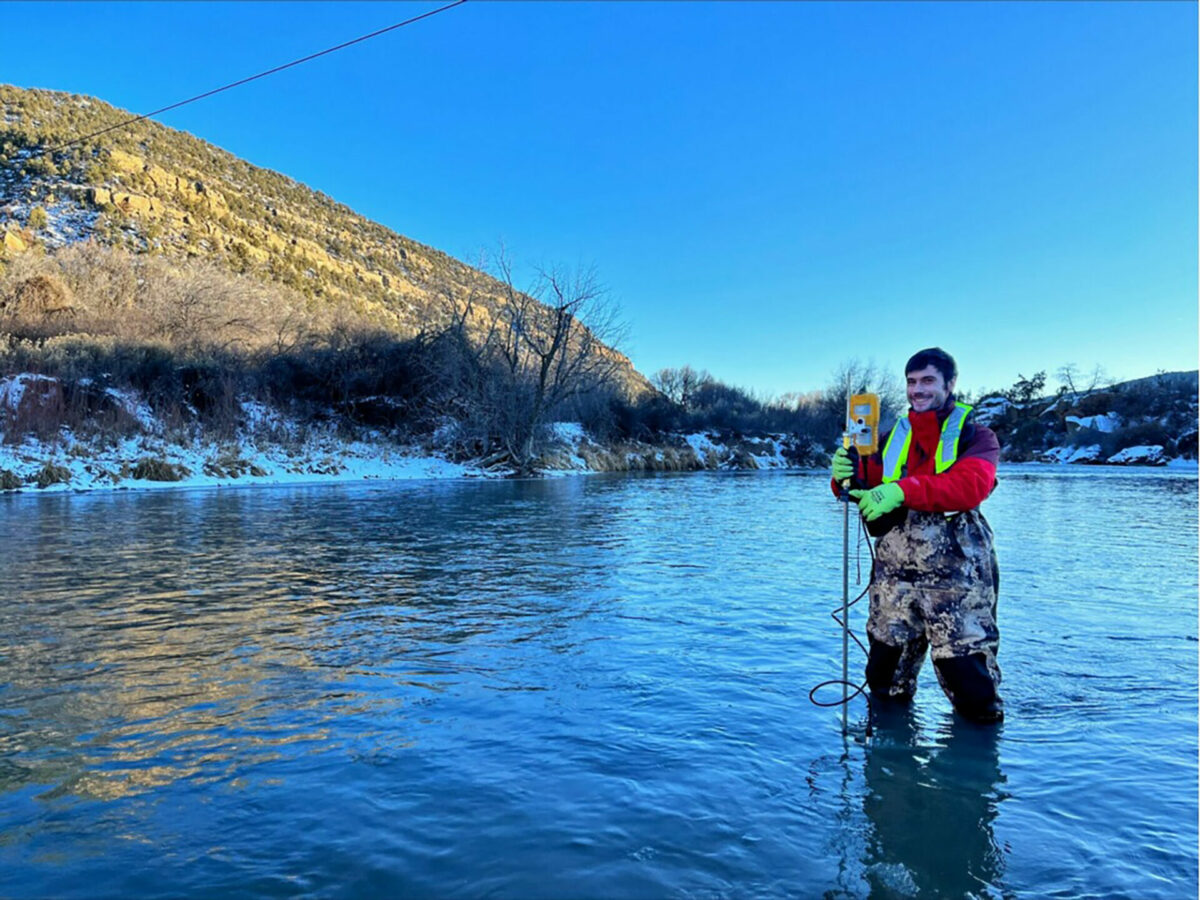 "I just think it's the coolest thing in the world. I always get giddy about science and have been an outdoors person my whole life. I get paid to go hiking. I get paid to be outdoors and do the things I enjoy while collecting data to learn about our water system."
During his time at the park, Misutka was also a part of several land restoration projects and several crews that helped with wildfire rescues in Michigan, New Mexico, Virginia and Nevada.
"We did a whole bunch of controlled burns throughout the season — probably about 30,000 acres," Misutka says, describing the process of intentionally burning fields to control the undergrowth of the forest. "After the burn, the team I led put together the maps for the areas where we wanted to go in and plant short leaf pine saplings. We planted about 25,000 pine saplings in under two weeks. Those were some really long and hard days, but we got it done."
While the U.S Forest Service set up a strong foundation for his environmental science career, Misutka was ready to transition to the technical side of the field.
In October 2022, Misutka joined the U.S. Geological Survey (USGS) as a hydrologist in Albuquerque, New Mexico.
"I'm tracking and mapping changes in our water system in the state of New Mexico. Most of the work I'm doing now is directly related to climate change. We're tracking all the different changes in our water system so we can make sure farmers, cities and states are getting their water," he says.
Misutka spends most of his time in the San Juan Basin, which is located in Northwest New Mexico and extends into Southwestern Colorado.
"The San Juan Basin is very important because it goes into the Colorado River, which supplies water to a lot of people," Misutka says. "I'm looking for changes in height and discharge measurements on some of these sites. I'm profiling the river bottom and analyzing velocities of the river."
The work Misutka and his colleagues do to track changes in the water system plays an important role for people across the state — from their everyday lives to the larger issues around crop irrigation and water supply levels for large populations in New Mexico.
"There was a farmer who came up to us to say he uses our data to know whether he can access his driveway because he sits on a flood plain," Misutka says. "If it's at a certain level, he can't leave his driveway. Or people who like to go boating or kayaking use our data to see if the lakes are flooding or too low."
Misutka adds that he still can't believe this is the work he gets to do on a daily basis.
"No two days are the same for me. I'm constantly seeking new opportunities for improvement and different people I can work with," he says. "I just think it's the coolest thing in the world. I always get giddy about science and have been an outdoors person my whole life. I get paid to go hiking. I get paid to be outdoors and do the things I enjoy while collecting data to learn about our water system."