Walking into the Makerspace for the first time is a staggering experience. One is immediately taken aback by the sheer vastness of the 17,000-square-foot facility, but walk around for 15 minutes and a more enthralling realization emerges. Every tool, every machine, every high-performance computer, TIG welder and 3D printer is there to take away a limitation for an ingenious, determined Roadrunner.
The Makerspace isn't just big, bright and brand-new; it's a creator's oasis where the possibilities are endless. "There are other 'maker spaces' in San Antonio and South Texas but nothing to this scale," says Don Petersen, director of engineering, innovation and design for the UTSA Margie and Bill Klesse College of Engineering and Integrated Design.
Located on the first floor of the university's Science and Engineering Building, the Makerspace includes a spacious project assembly and meeting area that encourages cross-collaboration between groups, five conference rooms fully equipped for telemeetings, a design studio that's home to 10 computers loaded with computer-aided design (CAD) software, an electronics fabrication lab with oscilloscopes and soldering stations, and a machine shop that features lathes, mills, drill presses, saws, welding stations and just about anything else imaginable that one would need for fabrication.
There are other 'maker spaces' in San Antonio and South Texas but nothing to this scale.
But the crown jewel of the Makerspace, many would argue, is the 3D-printing shop, which is home to 30 3D printers boasting various capabilities. Here, students, faculty and staff can craft custom creations made of materials ranging from polyester, plastic and resin to fiberglass, Kevlar and carbon fiber. Skilled engineers may even use the grandaddy of them all — a 3D metal printer that was made possible thanks to a $500,000 gift from Ed Whitacre, former CEO of AT&T.
"It can make really intricate parts that another machine or a welder couldn't make," Petersen explains. "The great thing about having these 3D printers on campus is the iteration, so if the students make a part, they can try it right away and see if it fits. They don't have to send it off and wait a couple of weeks. It speeds up the process for them and they can make a better product in the end."
In its first two years of existence, the Makerspace has been largely utilized by engineering students completing work for their senior design classes. Nearly 360 students were enrolled in senior design through UTSA's four engineering departments during the 2020-2021 school year. Working in four-person teams, it's a safe bet that every single one of them completed enhanced — or more ambitious — projects because of the Makerspace's capabilities.
Team C.A.T.O. attests to this. For their senior design project in biomedical engineering, 2021 UTSA graduates Claudia Collier, Naomi Alyafei, Sean Tritley and Favour Obuseh developed a vest prototype that monitors the heart's electrical rhythm and sends the user an alert if either an arrhythmia is detected or if the user's QT interval gets longer. The vest then implements a machine-learning algorithm to predict if a heart arrhythmia is near, which would be useful for patients with Long QT Syndrome.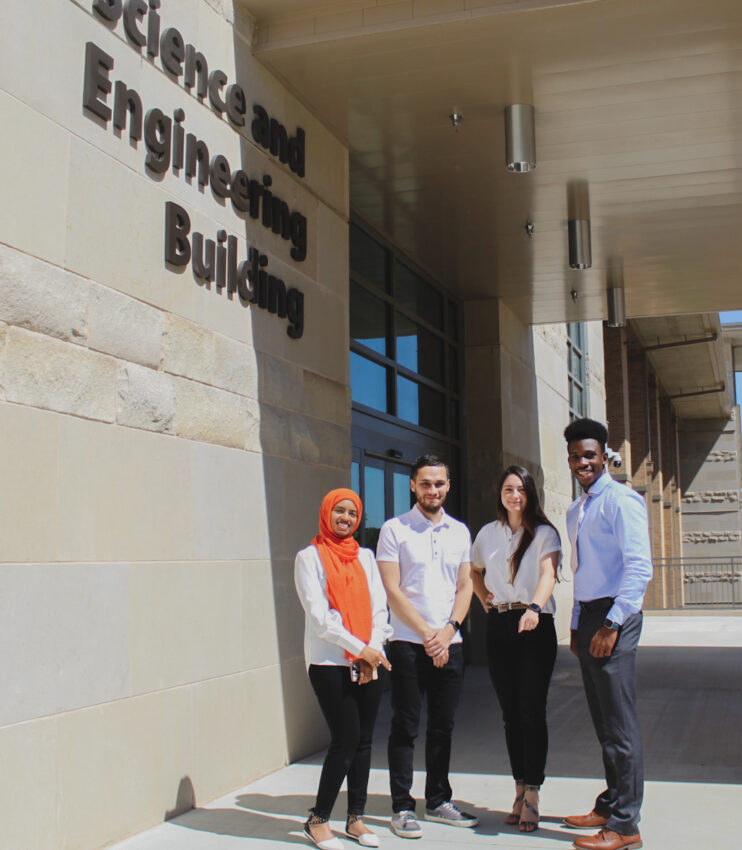 "It's a huge game-changer," says Alyafei, a 2020 Goldwater Scholar who recently enrolled in the Ph.D. bioengineering program at Stanford University. "If we didn't have that facility, we wouldn't have our project working at all.
Robert Ruiz '21 says his team's final product wouldn't have been possible without the Makerspace either. Ruiz was the team leader for HRG Technologies, which came up with a new way to manufacture a complex plug-arm component for downhole oil pumps. The part, which is made from a nickel chromium alloy called Inconel 718 and has very precise geometry, has long required extensive—and expensive—lathe and mill work. HRG was able to reduce the cost of the part by producing it with the metal 3D printer in the Makerspace.
Ruiz, who also routinely volunteered at the 3D-printing shop, says the Makerspace has fundamentally changed the engineering experience at UTSA. "Students are now able to quickly make changes and realize what's happening," Ruiz explains. "If this work were being done somewhere else, you wouldn't understand how your parts are being made and how your design affects the parts."
Even the teams utilizing the Makerspace in limited scopes are seeing the benefits. Kyle Fetter '21 and the STANDard Engineering team spent countless hours milling and drilling in the machine shop to craft a rocket motor test stand that more accurately measures and records thrust data for UTSA-designed rocket engines. Meanwhile, the experience for Andrew Alexander '21 and the Precision Hypersonics team was more computer-intensive. They developed a "shock tube control system" for the university's Laser Spectroscopy and Chemical Propulsion Laboratory during the fall 2021 semester.
Both Fetter and Alexander have discussed the effect of teams rubbing off on each other. Alexander describes himself as "an engineering major who's a bit of a desk jockey," but he admits that the first semester of senior design at the Makerspace boosted his interest in manufacturing and production. "I didn't have a lot of hands-on experience, but ever since then, I've spent more time there and interacted more with other students," Alexander says.
Cross-collaboration will be a driving force at the Makerspace going forward. Petersen says all students—not just engineering students—are welcome, whether they're artists, social scientists or studying business. Now that students are physically returning to campus in larger numbers, the vision for the Makerspace includes collaborative components for the Center for Innovation and Technology Entrepreneurship to help faculty members and students take UTSA discoveries, products and services to market. That vision also includes hackathons, seminars, camps, cookouts, competitions and other community gatherings.
"We want to reduce the barriers so that when anyone comes in, no matter how much experience they have, they don't feel intimidated," Petersen says. "They really can learn to program something here. They really can learn to build something here."