when driving into Downtown San Antonio on Interstate 35, the Tower of the Americas has stood in the distance, welcoming residents and visitors coming into the city. Frost Tower joined the iconic landmark nearly three years ago, changing the city's skyline and serving as a symbol for Downtown San Antonio's transformative future.
Today, the city's beloved skyline has yet another new addition.
Across the highway from the UTSA Downtown Campus, along San Pedro Creek on Dolorosa Street, stands a six-story, 167,000-square-foot building with bold blue letters, spelling out UTSA.
The long-awaited building is home to the brand-new UTSA School of Data Science (SDS) and National Security Collaboration Center (NSCC), a hub that will merge academia, technology and government in the heart of the Alamo City. In the fall of 2018, President Eighmy announced the concept in concert with news of a $15 million gift from entrepreneur Graham Weston and with support from The University of Texas System Board of Regents, the City of San Antonio and Bexar County.
With this ongoing support, UTSA will produce some of the most highly skilled individuals in the data science and cybersecurity industries and address the high demand in the job market.
Under the direction of the nation's brightest talents from the West and East coasts, David Mongeau and Guy Walsh, this transdisciplinary building will serve as a powerhouse for Downtown San Antonio's burgeoning high-tech corridor, while advancing economic development and creating prosperity for San Antonio.
"For more than 20 years, UTSA has been a pioneer in cybersecurity and also now offers best-in-class programs in data science, cyber manufacturing, cloud computing and artificial intelligence," says UTSA President Taylor Eighmy. "This new transdisciplinary building is deeply connected to the economic well-being of San Antonio and will house the first School of Data Science in Texas, which will enable UTSA to prepare students for the high-tech jobs of the future and to grow its ecosystem of government, industry and academic partners tackling society's grand security challenges."
From the group of high-caliber researchers to the students who will be part of the local tech and cyber industries in the years to come, the growth of UTSA's downtown presence will bring new vibrancy and opportunities to the city's blossoming tech corridor.
"We are at a pivotal point in San Antonio's growth trajectory. Businesses globally are choosing to invest in communities where they can employ a ready workforce to meet their needs today and in the future," says Jenna Saucedo-Herrera, president and chief executive officer of greater:SATX. "UTSA is leading the way in developing the San Antonio region's workforce of the future. The new School of Data Science and National Security Collaboration Center will further connect our current and future businesses with the tech talent they need to thrive in the greater San Antonio region."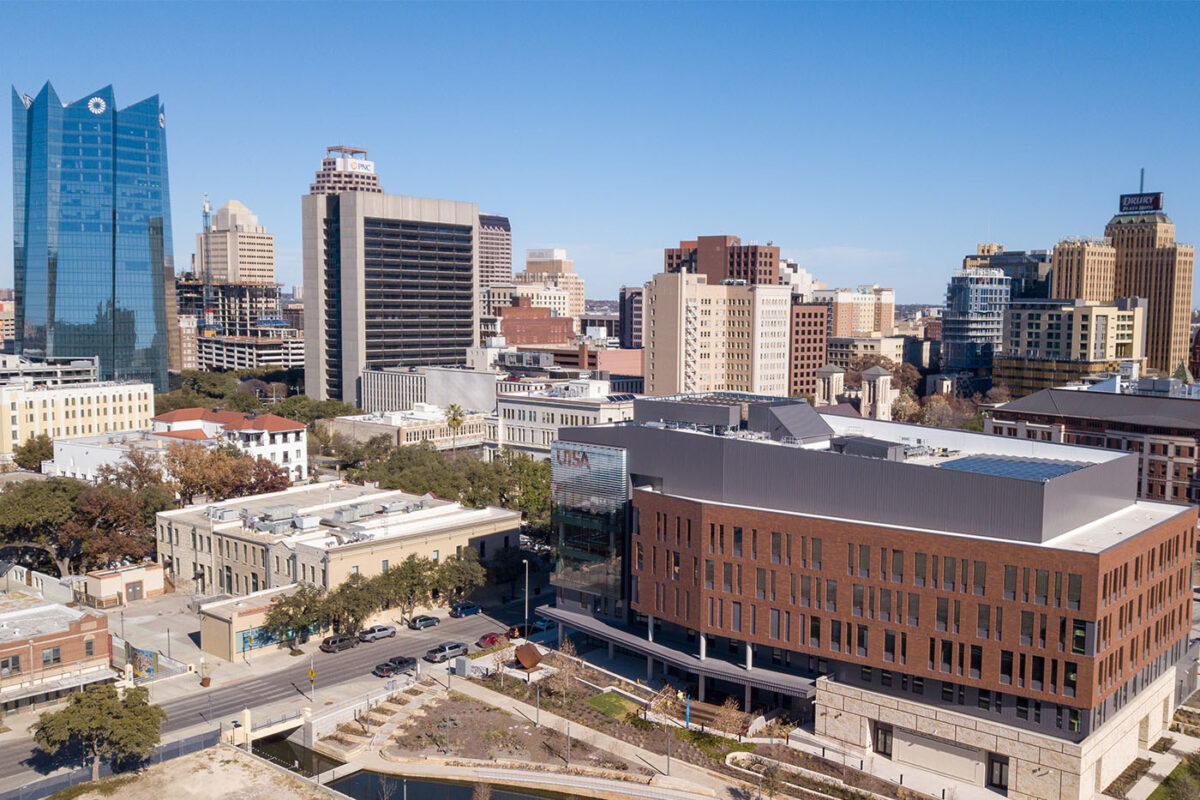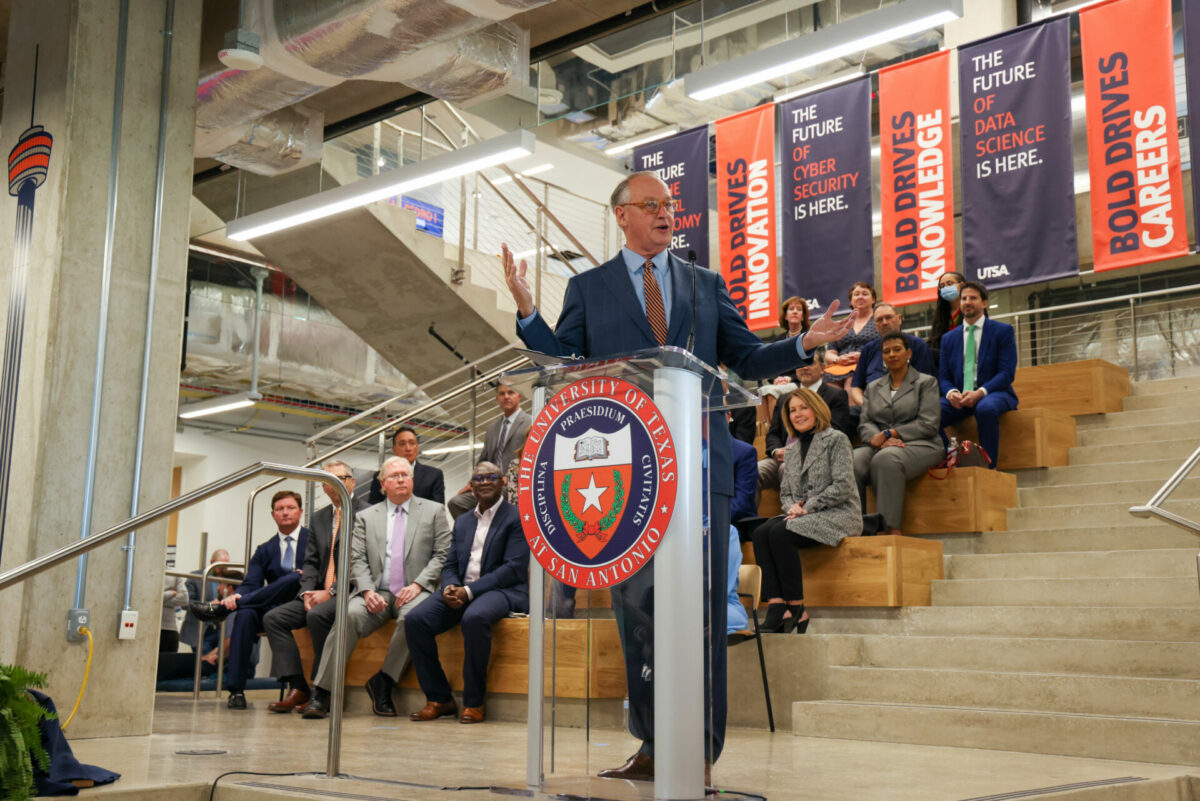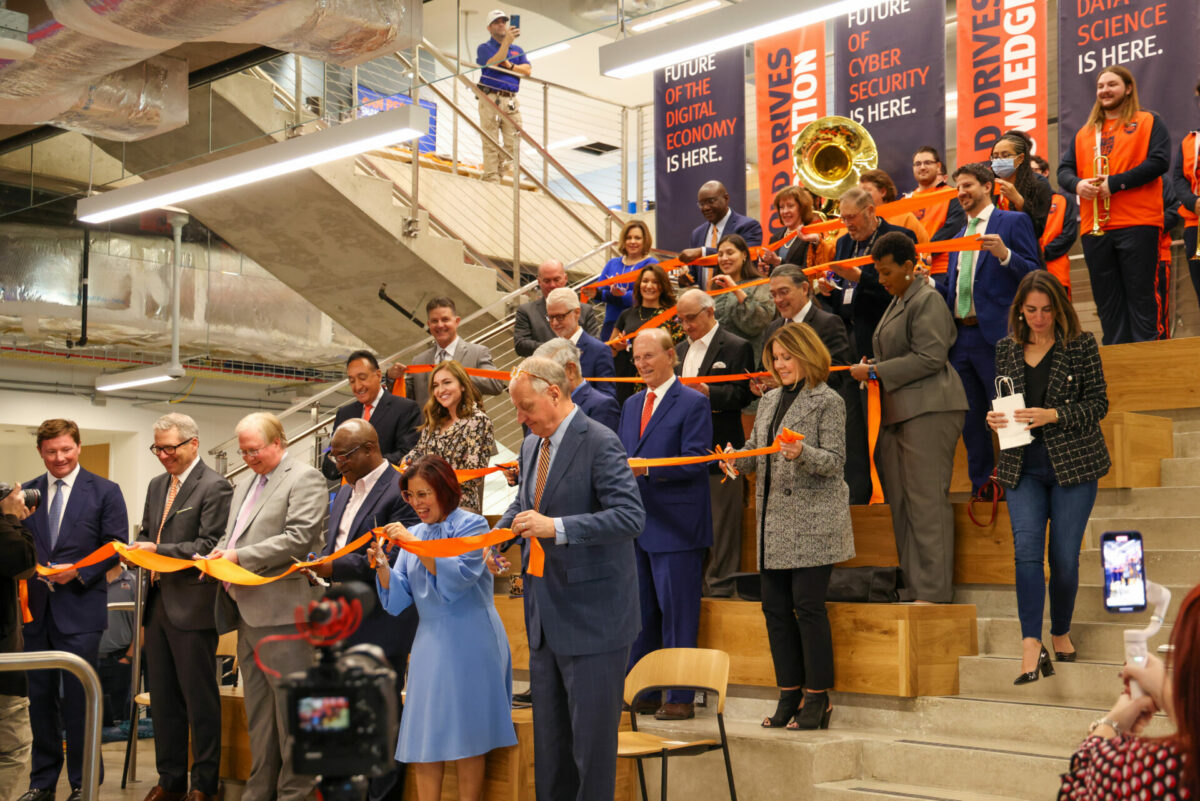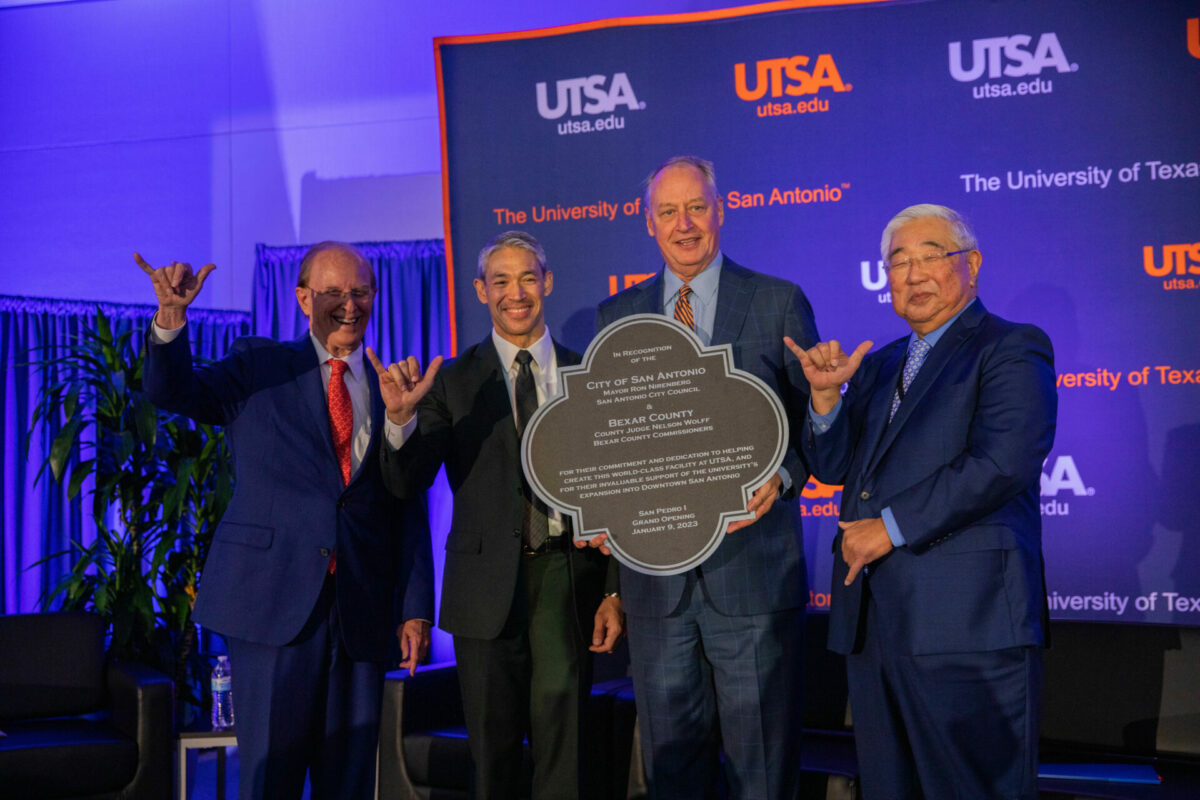 San Pedro I, which is located in Downtown San Antonio opened its doors on January 9, 2023 with a grand celebration attended by community leaders and stakeholders of the city. I Photos by Brandon Fletcher
In 2018, UTSA launched an initiative as part of its 10-year strategic plan to create the SDS to help address the job market's growing need for data scientists. Now, as the new school comes to fruition, leading it into the future of data science is David Mongeau. 
Recruited as the school's founding director in 2021, Mongeau is a respected national leader and pioneer in data science. Before UTSA, Mongeau served as the executive director of the Berkeley Institute for Data Science at the University of California, Berkeley.
 Mongeau oversaw the research, training and outreach at the institute while also significantly expanding its engagement with industry and foundations to advance the use of data science methods and tools in health care and criminal justice. Mongeau also co-led the Translational Data Analytics Institute at The Ohio State University, where he helped that institute expand its faculty by 52 positions across 12 colleges. 
"SDS is a bold way for UTSA to respond to challenges facing higher education while participating in the economic development of School of Data ScienceSan Antonio," says Kimberly Andrews Espy, UTSA provost and senior vice president for academic affairs. "It will allow our students to succeed and make contributions to a data-rich society. Putting the school downtown is a way to help with the economic goals of the city, while making it accessible to prospective students and to help attract other businesses. We are thrilled to have David leading the SDS, UTSA and our city forward."
 The new SDS will take the second and third floors of the transdisciplinary building with a central data center, a large state-of-the-art computer lab, and office and instructional spaces. The first of its kind in Texas, the school will also share the building with several UTSA research centers accelerating transdisciplinary research and development, including MATRIX: The UTSA AI Consortium for Human Well-Being and the Open Cloud Institute. With these centers housed in one space, there is hope for even further collaboration among the groups in the future. Several faculty members from the computer science, computer engineering, statistics and data sciences, information systems and cybersecurity departments will also co-locate in the new facility. 
"One of our goals is to make sure that the SDS is welcoming and anticipating the needs of all the academic disciplines," Mongeau says. "I don't view data science as solely the realm of computer science, statistics, engineering or math. A lot of people talk about the foundations of data science being math, stats and computing—and they are—but perhaps there is a dance student who wants to be introduced to simulation so they can better understand how their bodies move and how they interact with the stage." 
The first floor includes a cybersecurity education center that will give the community a chance to see a security operation center up close and personal. Port San Antonio, the San Antonio Museum of Science and Technology, and federal and industry partners helped develop the space. Mongeau hopes the new school will develop into a transdisciplinary, innovative research and education hub for all students and faculty. 
UTSA is a proud Hispanic Serving Institution (HSI), as designated by the U.S. Department of Education. The university is one of 20 other universities nationally that hold both the HSI and Carnegie R1 research designations. Among the universities, UTSA is in the top three R1 HSIs for high percentages of undergraduate and graduate degrees awarded to students who identify as Hispanic or Latino. One of the biggest impacts the school will have on the field of data science is diversifying who is in it. 
Studies show that data science currently has the least diversity compared to other tech fields. Fewer than 3% of data scientists are women of color, 5% are Latino, 4% are Black and 0.5% are Native American. The SDS hopes to embrace its vision of inspiring and preparing a generation of women and people of color who become data scientists to make the field more equitable and to bring diverse perspectives to the field.
 "UTSA leads other top-tier universities in the large percentage of Hispanic and Latino students and students from other underrepresented groups," Espy says. "There are not a lot of schools in the country that are making the financial and strategic investment in data science that UTSA is making with a priority on its diversity and inclusion goals."The need for skilled individuals in the data science field is growing. In 2021, the U.S. Bureau of Labor Statistics named data science as one of the top 20 fastest-growing occupations. It now estimates 28% job growth in the field by 2026. Glassdoor ranks data scientist as the third-best occupation in its "50 Best Jobs in America for 2022."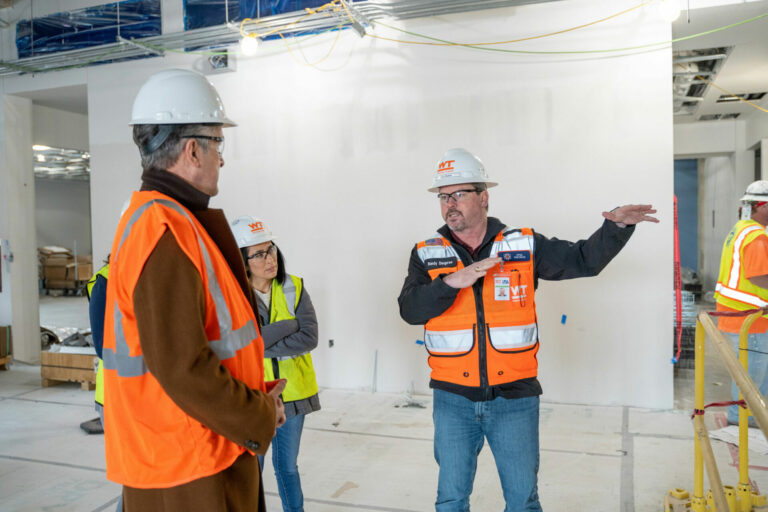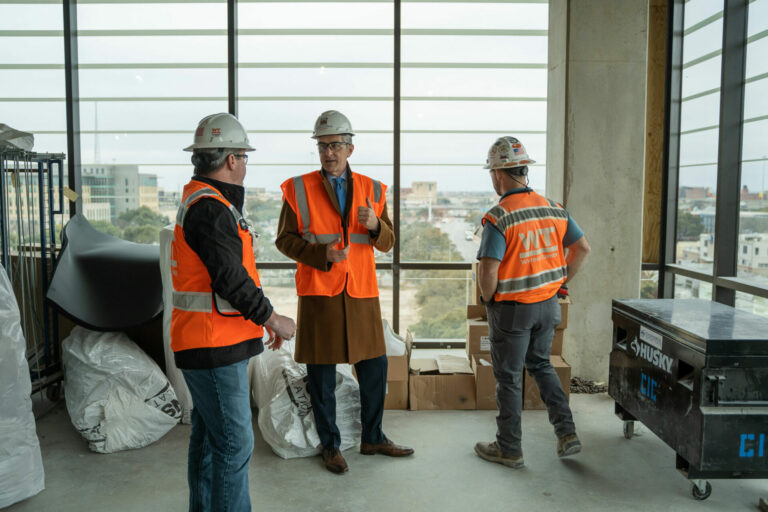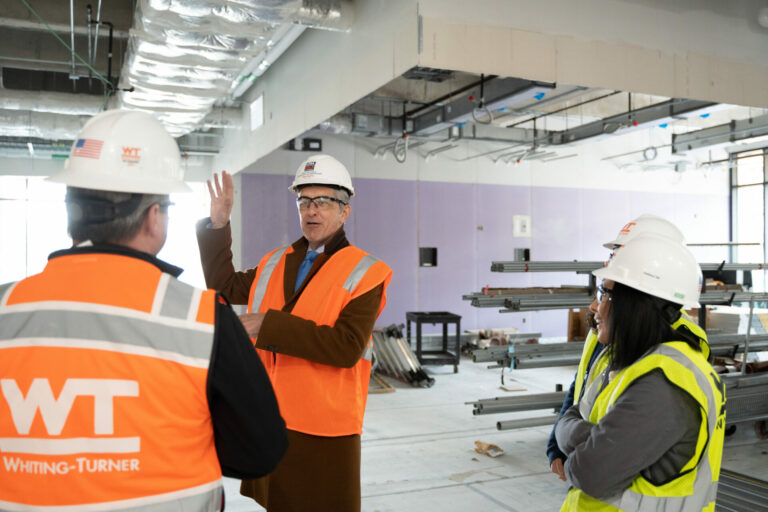 San Pedro I, which is located on Dolorosa Street, houses the School of Data Science and NSCC. Photos by Brandon Fletcher
The SDS will develop highly skilled individuals to fill the gaps for those in-demand jobs of the future. 
"It's great to have a degree and one thing to have a certification, but to get a degree and certification in the high-demand occupations that are growing, not just today but five to 10 years from now, is even more important," Saucedo-Herrera says. "Our focus is on getting San Antonians the skills they need for these jobs. Creating good jobs for San Antonians drives economic mobility." 
With the building's central location in San Antonio's growing tech district, businesses and startups will have the ability to engage with a pool of promising students and tap into the well of knowledge offered by world-class faculty members at SDS and NSCC.
"Part of what attracts companies is the intellectual heft and talent for the workforce. San Antonio offers that here," Mongeau says. "By putting this SDS building downtown and bringing the professors and the students, you're perhaps creating new businesses and certainly new ideas to pursue, and that will attract people from the outside. You're creating talent, and the companies see it. They hire the growing talent, and that allows us to grow with more investments." 
In 2020, Zillow released a report describing the South and the Midwest as the areas with growing tech markets, listing San Antonio in the top 10 markets for future tech growth. 
"Tech and cybersecurity leaders, as well as many local entrepreneurs, see greater possibilities for economic growth to benefit the city and its citizens because we're further integrating the academic-government-industry collaboration, which San Antonio does so well," Mongeau says. "Moreover, the promise of a new critical mass of data science and artificial intelligence (AI) faculty and students in a university district downtown is a source of energy for the sector." 
"While there are already entrepreneurs making the investment, the ecosystem to support them is still sorely needed," Saucedo-Herrera says. "The data science school is bringing the talent aspect to that equation. You need to have the talent there in the mindset of building community," she added. 
The placement of the SDS in Downtown San Antonio is a key element in the university's strategic vision to accelerate the development of the UTSA Downtown Campus.
"We work well together in San Antonio and we're very proud of that, but there's a proximity element to that," Saucedo-Herrera says. "When we were visiting with the DeLorean CEO at city hall and Mayor Nirenberg could point to the new data science school and say, 'You need software engineers? Right here, UTSA is building this campus and you're going to have the talent, the majority being first-gen,' that story is beautiful. That story is about diversity, equity and inclusion. The story is about economic mobility."
The National Security Collaboration Center (NSCC)
The new SDS is one part of the university's investment in San Antonio's urban core. Launched in 2018 as an investment to advance government, university and industry partnerships to protect America's national security infrastructure, the National Security Collaboration Center is anchoring the city's tech scene with its cybersecurity, data analytics and cloud computing capabilities. 
Since its founding, the NSCC has established a variety of collaborations across several industries and produced groundbreaking research under the direction of Guy Walsh, its executive director. Walsh took the reins as the center's founding director in 2019, bringing with him knowledge in cybersecurity operations, international affairs, risk mitigation, strategic planning, and local and state emergency management.
Before UTSA, Walsh spent 25 years as a pilot in the U.S. Air Force, and in 2010, a year after retiring at the rank of Brigadier General, he was tapped by the NSA director and commander of the U.S. Cyber Command to focus on cyber as the newest combat organization in the U.S. Department of Defense. Walsh also was a founding member and deputy director for the Capabilities Development group, which helped integrate USCYBERCOM's cyberspace capability development.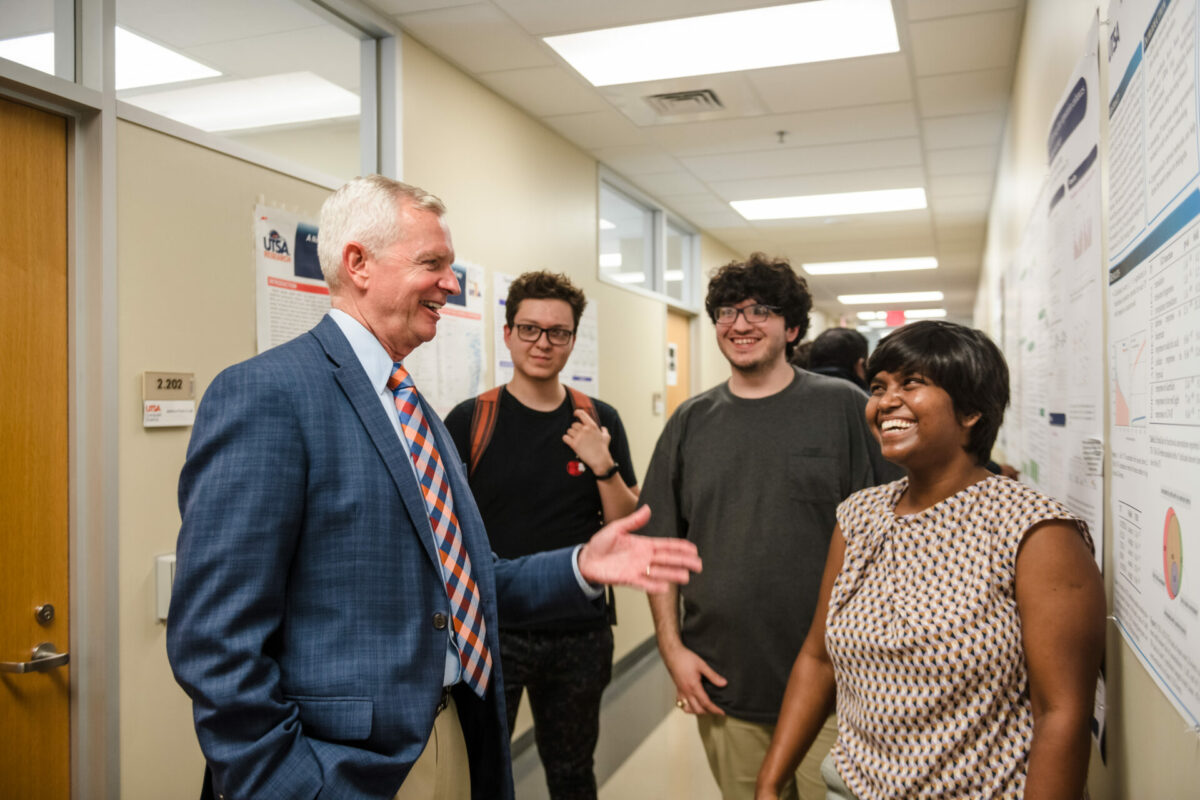 I want that fourth and fifth grader to visit the building's cybersecurity center and be able to say, 'Yep, that's what I want to do when I grow up.
For years, UTSA has been a longstanding leader in cybersecurity, cloud computing and analytics, and it has further solidified its place through the work of the NSCC. UTSA is one of few universities in the nation—and the only Hispanic Serving Institution—to hold three National Center of Excellence designations from the U.S. Department of Homeland Security and National Security Agency.
The NSCC's move from the UTSA Main Campus into its new downtown building will bring several opportunities, including bridging the strengths and talents of the SDS and NSCC.
"While a first-class facility and central location on San Pedro Creek in the heart of downtown San Antonio give us an advantage, it is the breadth and diversity of our world-class research teams combining university, industry, federal and national lab partners that set the SDS and NSCC apart from other research institutions," Walsh says.
Housed on a two-floor suite in the new building, the NSCC will connect with researchers across the globe in forensics, cryptography, cloud security, 5G, AI and national security.
While UTSA already has several existing collaborations in the local tech and cybersecurity sectors, such as with Joint Base San Antonio, CPS Energy, the San Antonio Water System and the Alamo Regional Security Operations Center, the hope is to further expand expand partnerships through new projects.
"Our partnerships and collaborations with San Antonio's tech and cybersecurity sectors, particularly critical infrastructure owners, operators and industry partners, are game changers that elevate UTSA's education and research capabilities," says Bernard Arulanandam, UTSA vice president for research, economic development and knowledge enterprise.
At the same time, the university looks to further grow its federal and national partnerships, Walsh added.
To accelerate this goal, UTSA launched the Cybersecurity Manufacturing Innovation Institute (CyManII), a $111 million public-private partnership established in 2018 with the U.S. Department of Energy to introduce cyber-secure energy-ROI for energy-efficient manufacturing and supply chains. In 2021, the university also secured an $18 million federal research contract with the Air Force Research Laboratory.
"The Cyber Manufacturing Innovation Institute will continue to be an integral element of the SDS and NSCC to compliment the CyManII campus located at Port San Antonio," Walsh says.
UTSA research labs are looking at becoming a center of U.S. research for health and well-being, Walsh says.
"In 2021, UTSA expanded our Army Research Lab team and recently hosted the Director of Army Research Labs to showcase San Antonio's Fort Sam Houston as a flagship location for advancing research on the health and well-being of our military forces," Walsh explained. "With five major commands and the third largest U.S. Army installation, we continue to highlight UTSA's NSCC value, speaking to both research and workforce development."
Saucedo-Herrera adds that housing the SDS and NSCC together downtown will propel the city to the national stage.
"When you hear UTSA is now a Tier One research institution, or they are investing in a National Security Collaboration Center, or hiring top talent around the country, that puts San Antonio on the radar," she says. "When we are out selling San Antonio to people around the world, that narrative is important. If we are bringing the right types of jobs to San Antonio and we are equipping San Antonians with the education to actually excel in those jobs and growing economic mobility and improving the economy, then we are doing our job."
"UTSA's leap to Tier One status in 2021, the highest tier of U.S. research institutions, has gained the attention of many new and potential partners, who will be with us when we open the doors this fall," Walsh says. "All eyes are on San Antonio and for good reason."
But most importantly, this building will be an opportunity for the community to better understand the importance of the fields of cybersecurity and hopefully inspire engagement from a new generation.
"Kids growing up today in San Antonio want to be a police officer, a doctor, the mayor, or a lawyer because that's what they are exposed to," Walsh says. "They don't know what a career in cybersecurity looks like, but it's all about exposing them at a younger age. So, having this building in the heart of San Antonio is going to change that. I want that fourth and fifth grader to visit the building's cybersecurity center and be able to say, 'Yep, that's what I want to do when I grow up.'"
Leading San Antonio into the data and cyber future
Data impacts our lives and jobs no matter where we are. At the grocery store, scanners and cameras feed data about a person's purchasing patterns and whereabouts. This data influences sales, inventory management and even pushes digital coupons to mobile apps.
 "The knowledge base economy of the 21st century is really around data. Data is a commodity. We are surrounded by data. Data is a currency that really needs to be appreciated, studied and integrated," says Arulanandam. "Jobs in the 21st century will require students who have a very strong foundation of data science and analytics for this new world we live in."
Over the last several years, UTSA has deliberately built a diverse group of highly skilled researchers to lead the university into a data-filled future.
 "We have hired high-caliber faculty across the board on all aspects of data science through cluster hiring," Espy says. "We have intentionally densified the number of faculty and talent that we have here at UTSA to become a thought leader in data science." Weston's gift and the ongoing support from The University of Texas System, the City of San Antonio and Bexar County is enabling deep collaboration between the SDS, the NSCC and the university's faculty, researchers and students. This successfully positions UTSA to lead San Antonio into its evolving and transformative future and bring a new dynamic to the city's urban core.
"When you're out at a restaurant for a meeting, you want to see all walks of life," Saucedo Herrera says. "Being able to walk down the street and run into David Mongeau, Graham Weston or Guy Walsh — there's power in that. You want to see a businessman with a backpack. You want to see an artist. You want to see a student. You want to see one of those airmen out of the military with their families. You want to see everything that makes San Antonio unique."