A well-known saying states that "trust equals truth over time." Roger Enriquez reflects on that formula often in his duties as executive director of the UTSA Westside Community Partnerships Initiative. He's determined to earn the trust of the people living in San Antonio's historic Westside community, which shares the 78207 zip code with the UTSA Downtown Campus.
The Westside is rich in cultural heritage, from its deep roots in activism to its wide-ranging impact on various forms of arts and entertainment. Because the residents largely live below the poverty line, they have concerns about issues that impact their quality of life and their educational and economic mobility. Strategic efforts and greater partnerships have long been necessary to tackle concerns over affordable housing, economic health, low educational attainment and the gap in digital literacy.
UTSA was compelled to answer that call by providing the resources and support to address these pressing issues.
The university launched the Westside Community Partnerships Initiative in the fall of 2019 to bring a positive impact to the historic neighborhood. Its creation aligned with UTSA President Taylor Eighmy's vision to expand the Downtown Campus over the next decade and his commitment to having the Westside community inform and influence that expansion.
The initiative has four primary goals: to create pathways to economic prosperity, to create pathways to educational excellence, to foster community-campus engagement, and to engage in important community-based research and advocacy.
"We want UTSA to harness its human, intellectual and economic power into one discrete part of town that has faced challenges for many generations," Enriquez explains. "We're not going to solve these things overnight, but we're committed to being there for the long haul and being part of that solution."
The following is a look at university projects that are supporting the community's positive momentum on San Antonio's Westside.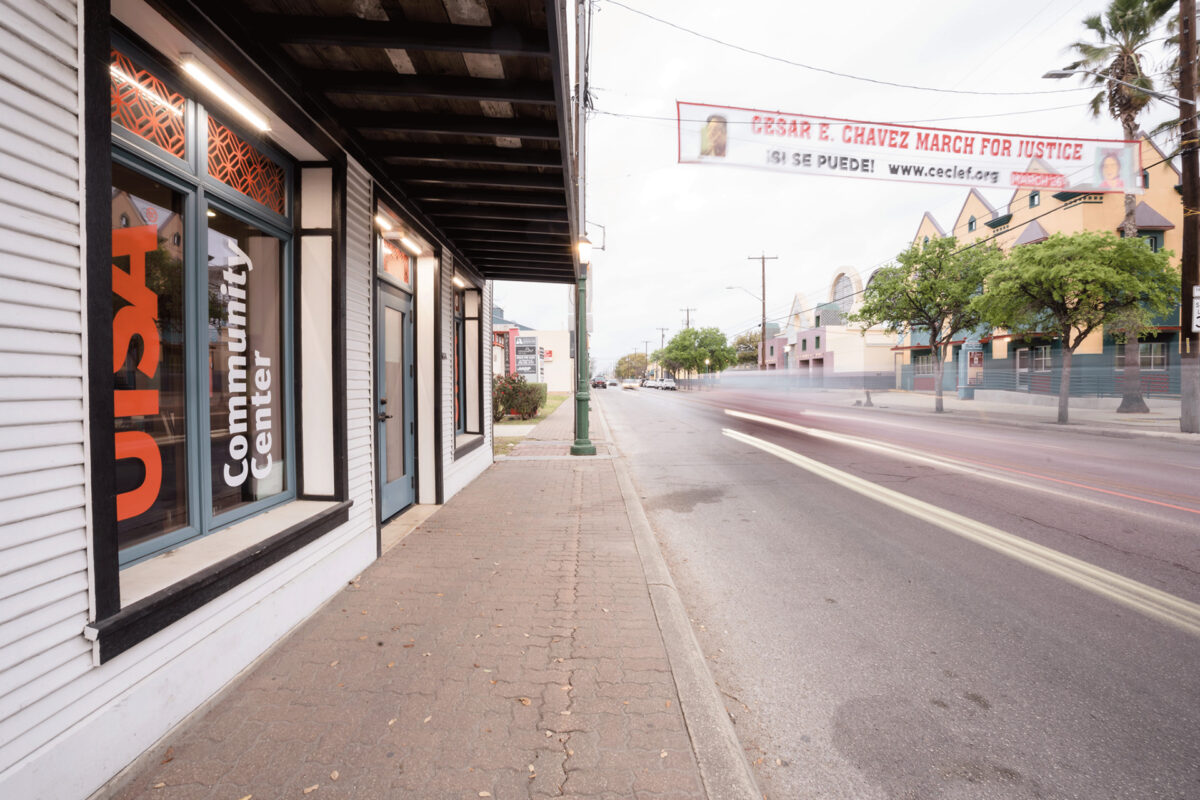 Since its opening in 2019, the Westside Community Center has become a hub for community-based research, educational and cultural services, and career development and training opportunities. "The university's goal is to balance growth with the preservation of community assets such as the heritage, artistic legacies, social movements and working-class landscape that shape San Antonio's Westside," says Teresa Niño, UTSA vice president for university relations.
UTSA launched the first-ever Westside Community Scholarship Fund at the center, and it hosted the "Celebrate History ReinVOKed" exhibition featuring rare memorabilia from Lanier High School. It also has served as a venue for sessions on public art feedback, housing information and social work training.
In recent months, the center has hosted Family Wednesdays to connect K-12 students and their families to admission counselors, financial aid and student housing resources. The Westside Community Center also served as the site for a breakfast kickoff event for the annual Cesar E. Chavez March for Justice.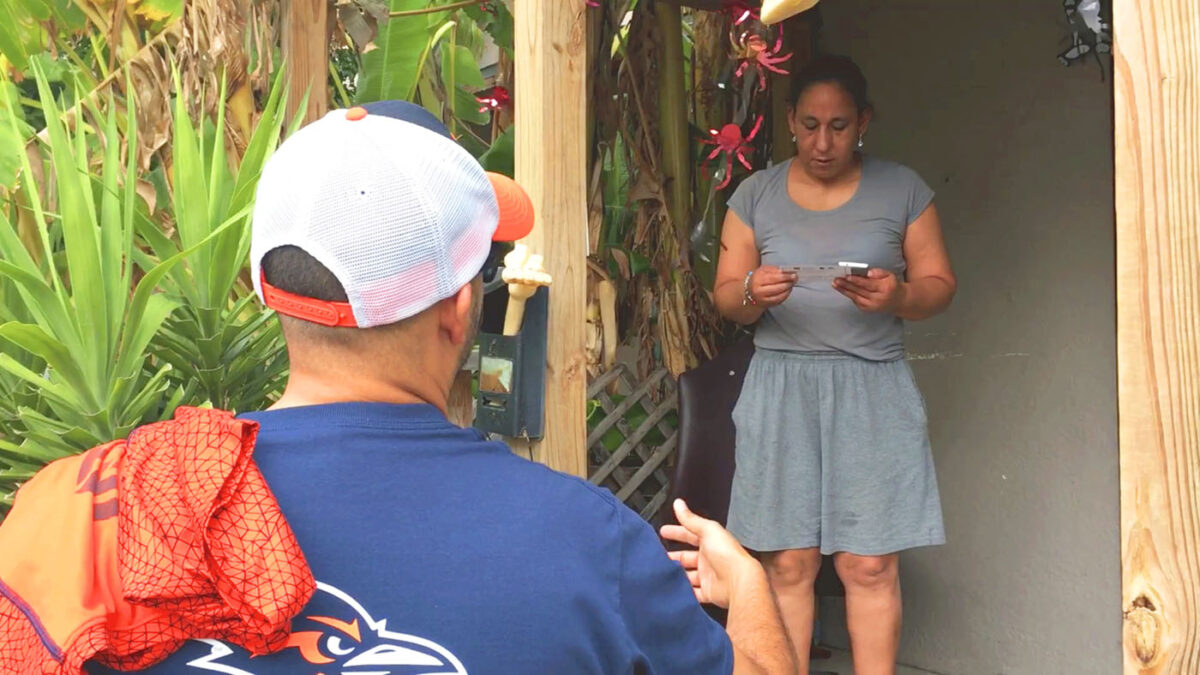 Residential stability has been a prevailing focus for the initiative since its creation. That's why UTSA students and faculty participated in a door-to-door housing outreach workshop in October 2019 after former District 5 Councilwoman Shirley Gonzales established a pilot housing program that brought the university into the effort.
Student and faculty researchers found roughly 2,000 addresses in the 78207 zip code where homeowners were not taking all of their homestead or property tax exemptions, therefore paying more in taxes than necessary. They walked the Westside blocks to let these homeowners know about the exemptions, while also warning them of potential title problems they could encounter and about predatory buyers seeking to snatch up properties in the area.
Low-income residents on the Westside and in many other San Antonio neighborhoods are finding it increasingly difficult to hang on to—and preserve—their family homes. Some simply can't keep pace with annual property tax increases, while others struggle to pay reputable contractors for necessary repairs and maintenance.
Many homeowners do not qualify for city-sponsored assistance until they have clear legal titles. Enriquez estimates that between 70 to 80% of homes fall into disrepair because of fractionalized ownership, which is a pervasive problem throughout San Antonio but especially on the Westside.
"Those are situations where six or seven people own the house, and therefore no one really owns the house, no one pays the taxes, no one does the repairs and the asset gets wasted," Enriquez explains.
In the fall of 2019, former District 5 Councilwoman Shirley Gonzales collaborated with UTSA students and faculty on a door-to-door housing workshop to help homeowners on San Antonio's Westside.
UTSA's "shoe-leather" academic work established a dialogue with many Westside homeowners and gave the university more opportunities to further explore housing and estate issues in the neighborhood on an individual basis. UTSA Westside Community Partnerships has since partnered with the Mexican American Unity Council (MAUC) to provide relief to hundreds of families that needed help to keep or clean the titles to their homes.
Another vital housing initiative aiming to mitigate home affordability issues on San Antonio's Westside is the Shotgun Houses Project, a collaboration involving the UTSA Westside Community Partnerships Initiative and Department of Architecture to rehabilitate culturally significant "shotgun" houses at an affordable cost.
According to an affordable housing study commissioned by the city's Office of Historic Preservation, there are an estimated 33,000 houses that are 1,000 square feet or smaller built in the city prior to 1960. Several hundred of these homes are "shotgun" houses, known for their narrow depth.
Enriquez explains that these small but historic San Antonio houses were a response to redlining by banks, a discriminatory practice in which Latino applicants were denied home loans, forcing residents to turn to local lumberyards that would sell them kits to build their own homes on narrow, cost-effective lots.
The team—which includes Enriquez, architecture professor Angela Lombardi and her students, and Department of Architecture chair Sedef Doganer—is demonstrating to city departments and non-governmental organizations how the shotgun houses can be rehabilitated at an affordable cost using a mix of funding sources.
Today, more than 58% of all households in San Antonio house only one or two residents. Renovated shotgun houses would be a welcome reprieve for those residents as home values continue to skyrocket in the Alamo City. "They're an important part of our history, our legacy and our culture—and they're actually a practical solution," Enriquez says.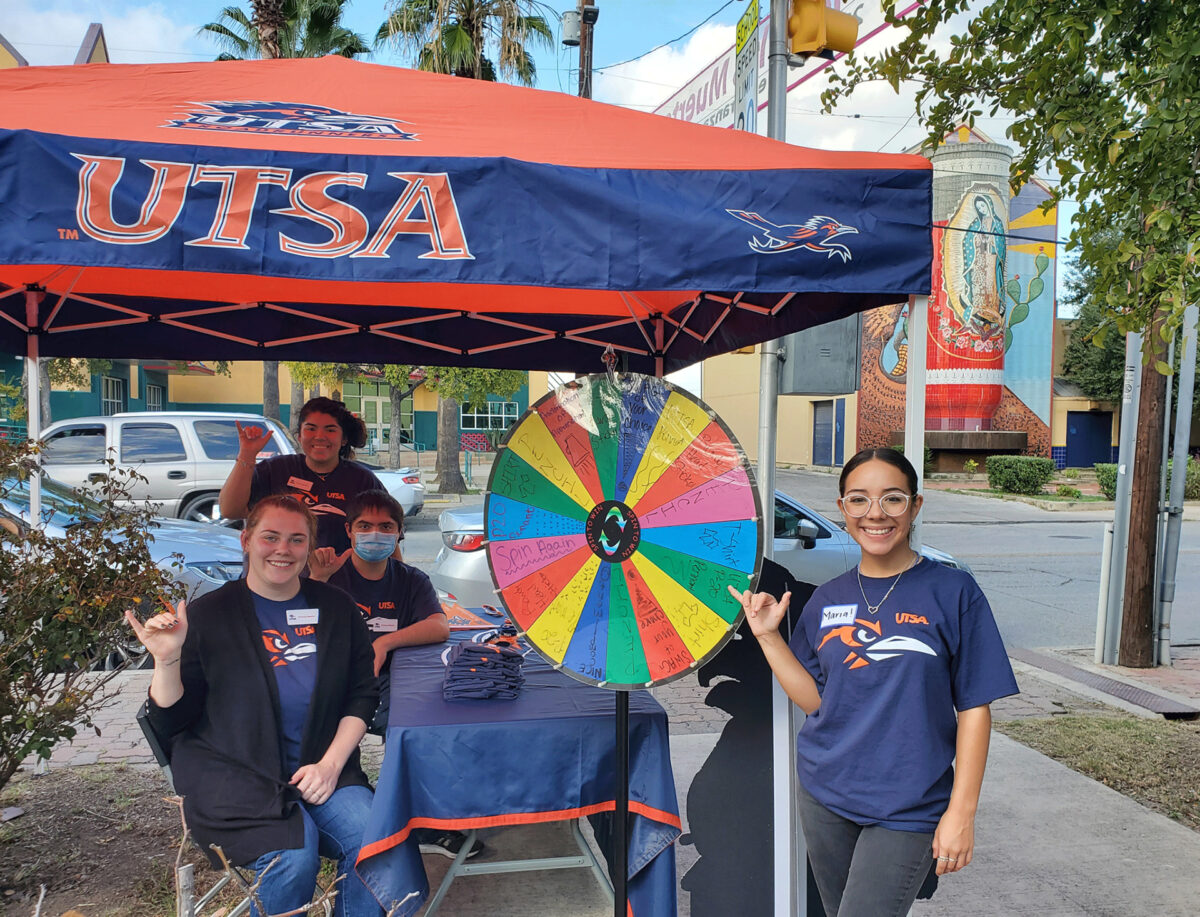 In its effort to improve access to higher education for Westside youth, UTSA has deliberately focused on recruiting students in the area. From 2019 to 2021, enrollment at UTSA increased dramatically among Westside students coming from Lanier and Burbank high schools.
Lynn Barnes Jr., UTSA senior vice provost for strategic enrollment, says programs such as the UTSA Parent Summit have helped to bolster the enrollment increase. Held virtually for the first time in 2021, the summit offers bilingual presentations to the parents of elementary, middle and high schoolers to promote early academic success for their children. The UTSA Bold Promise tuition assistance program, which covers tuition for Texas students whose families earn $70,000 or less and who graduate in the top 25% of their high school class, has also given more Westside students an affordable path to a bachelor's degree.
As the enrollment of Westside students at UTSA increases, so too will the university's civic engagement in the neighborhood. "Recruiting students from the Westside is something we've always done," Barnes says, "but now we're trying to do that while connecting them with our Westside Community Partnerships Initiative so we can mobilize UTSA students to give back to their community."
We bring our resources and the community brings their resources to a shared table.
Many UTSA students are giving back to the Westside through Rowdy Corps Community Scholars, a community-based work study program. These scholars provide service while gaining hands-on experience through their duties for Westside community partners like Good Samaritan Community Services, the Boys and Girls Clubs of San Antonio and City Council District 5.
Westside youth have even drawn up meaningful policy ideas in the Civic Leadership Academy that UTSA public administration professor Gina Amatangelo and her students established at Lanier High School. Through this academy, UTSA students worked with Lanier students to produce recommendations and prioritize policy solutions to community issues. Those ideas were then shared with city and county leaders. The academy encouraged teens at Lanier to imagine themselves as future college scholars while also providing them a venue to engage as citizens.
This kind of one-on-one engagement has deepened human connections between the university and the Westside, according to Belinda Harmon, UTSA senior director of community outreach and transfer programs. "We bring our resources and the community brings their resources—some tangible and some intangible—to a shared table."
Sparking small businesses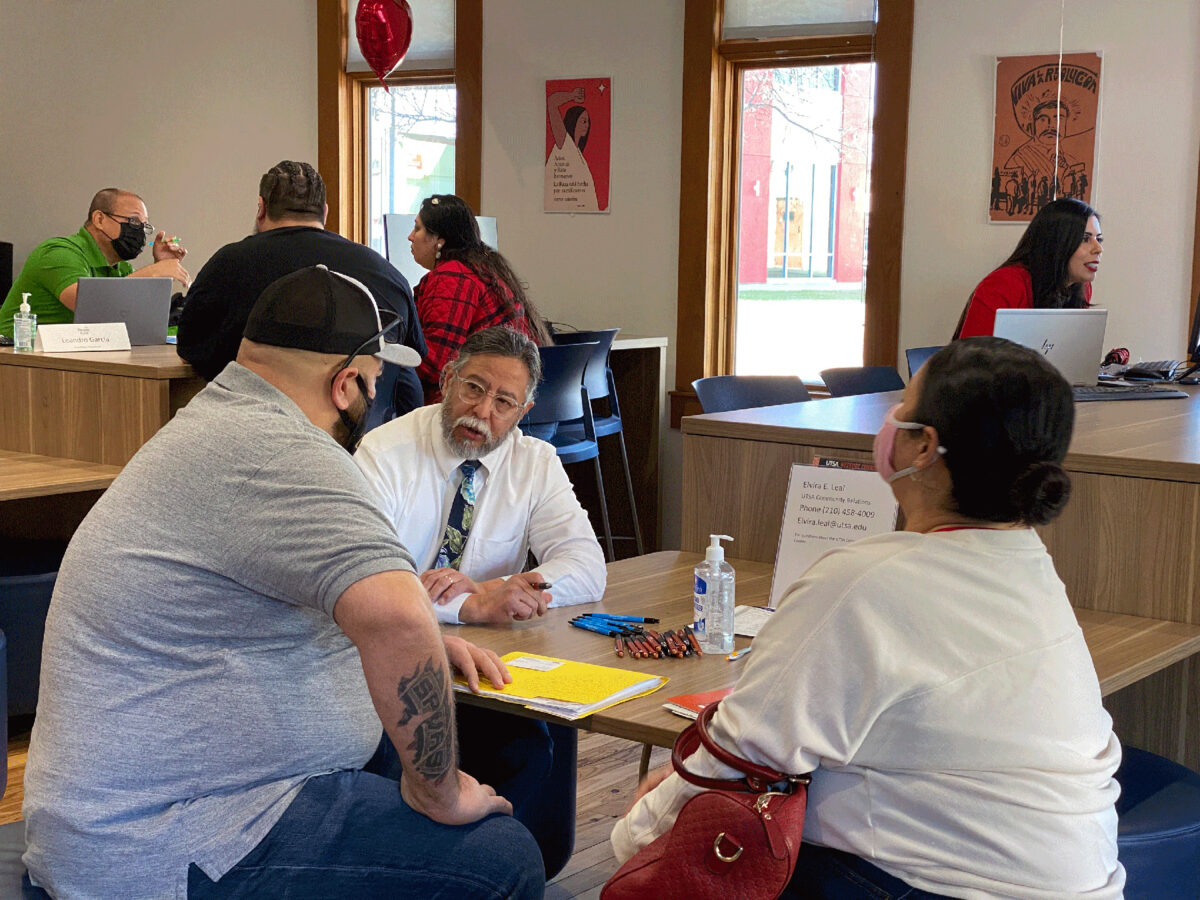 Throughout 2020, several Westside businesses were able to stay afloat and even expand, thanks to the assistance of the UTSA Small Business Development Center (SBDC).
In fiscal year 2020—a difficult year with the onset of the pandemic—the SBDC advised 127 Westside businesses and guided six through expansion, while helping retain 308 jobs in the neighborhood and creating 14 more. All in all, the SBDC created $1.27 million in capital infusion and helped procure nearly $900,000 in COVID disaster recovery loans for Westside businesses during that time period.
"I mean, this is really when the community—especially the business community—needed us the most," Enriquez says. "We're talking about tire shops. We're talking about panaderías. We're talking about small, family-owned businesses."
The SBDC's impact on the Westside grew in 2021 and continues that growth in 2022. In fiscal year 2021 alone, the SBDC staff engaged over 250 businesses, helped dozens of businesses open or expand and created 47 new jobs in the area.
In February of this year, the SBDC and San Antonio Small Business Administration held a small business workshop at the UTSA Westside Community Center to raise awareness of funding and other resources available, attended by more than 30 small business owners and entrepreneurs.
The SBDC was an invaluable resource to help me go from an idea to a business that's now helping care for thousands of children.
Physician Esteban Lopez contacted the SBDC seeking guidance to open Hopscotch Health, his pediatric urgent care facility. UTSA matched a certified business advisor with Lopez to research and develop a strategy for the facility's launch. With additional help from UTSA-hosted SBDCNet, the team identified two locations that best fit the targeted demographic for his clinic.
To date, Lopez has already created five new full-time jobs and sees his two clinic locations — one near Woodlawn Lake on the Westside and another in Leon Valley — as the beginning of a larger network. "The SBDC was an invaluable resource to help me go from an idea to a business that's now helping care for thousands of children across the region during the pandemic," Lopez says.
In addition to small business owners and employees, UTSA has also cultivated a close relationship with Prosper West San Antonio, a nonprofit community organization that fosters economic development, creates viable urban communities and preserves the character, culture and history of the Westside. Both the SBDC and Prosper are part of the burgeoning Westside Business Alliance, which connects Westside business owners to create advocacy networks and empowers them to promote projects that positively impact their businesses and communities. SBDC director Richard Sifuentes says the alliance has been beneficial for UTSA leadership because they often learn about larger issues on the Westside as they introduce community members to the university's resources. "Although we do help a lot of people and we have these services available at basically no cost, we'd like to help more small business owners and entrepreneurs on the Westside who haven't taken advantage," he says.
Supporting digital literacy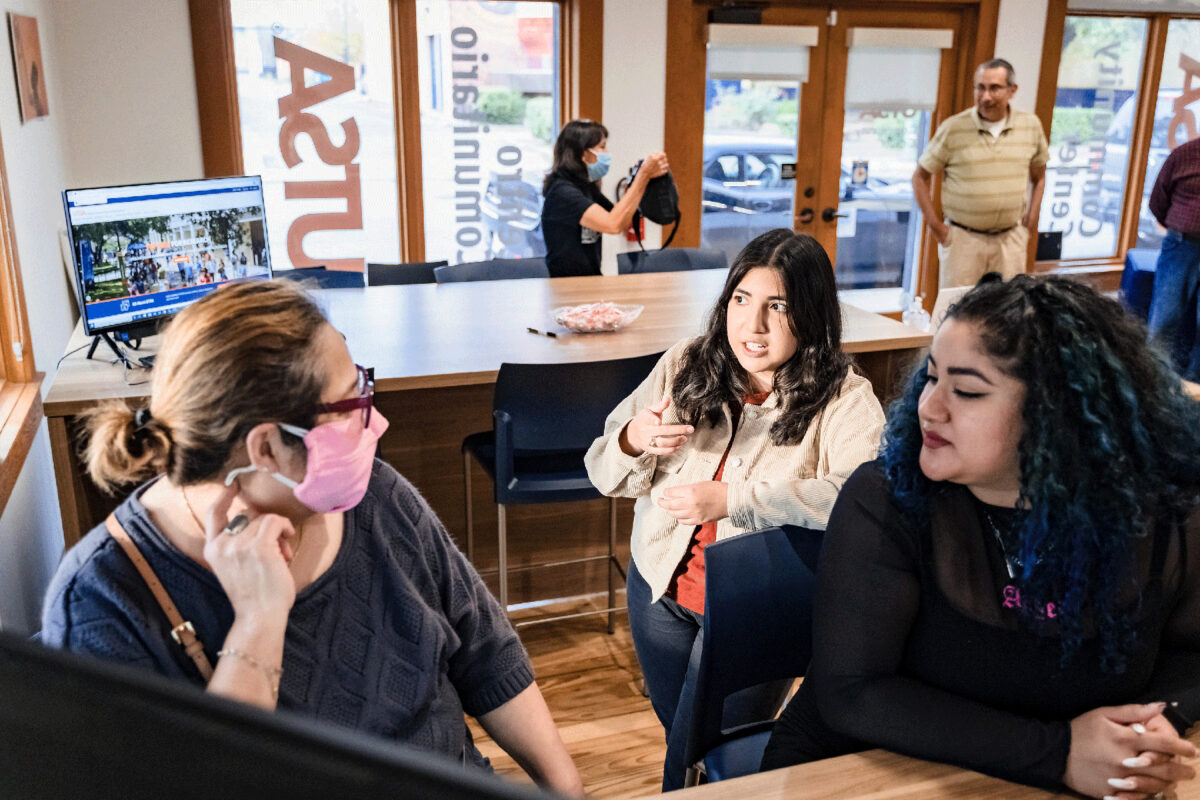 One of the more recent university efforts based at the Westside Community Center attempts to bridge the digital divide in 78207 and several other Westside zip codes. A student group called the Westside Digital Inclusion Ambassadors strives to improve digital literacy in the area.
A 2020 digital inclusion survey by the UTSA Policy Studies Center, in partnership with the City of San Antonio's Office of Innovation and Bexar County Commissioner's Court, found that broadband connectivity, device access and digital competency were significantly lagging in District 5 compared to the rest of the county. Under the direction of Enriquez and UTSA public administration professor Chris Reddick, student ambassadors embedded themselves at the Westside Community Center to help people in the community with their technological needs.
"They were able to get these individuals from being confused and overwhelmed with technology to a more positive place in their lives," Reddick says.
Socioeconomic status and the Spanish-English language barrier are among the primary drivers for the digital divide in District 5, so the UTSA student ambassadors not only provide access to the internet for those who need it but also bilingual assistance with internet searches, online research, accessing social service web platforms, troubleshooting, printing, copying, scanning, and lessons about internet security and privacy.
Minelda Ochoa, a Westsider who only speaks Spanish, visited the ambassadors after she had accumulated $100 in late fees because she couldn't effectively communicate with her mortgage lender. Students Jazmin Arroyo and Mariana Bravo helped her create an online mortgage account and petition for the late fees to be removed and helped her enroll in autopay. They also assisted her in how to use a search engine and web browser, and how to write and send emails on her phone.
The ambassadors also lent a helping hand to local business owners. After the SBDC advised Elena's Café owner Elena Gomez Peña through the Paycheck Protection Program financial aid process, Joi Sheppard-Udoh set up a profit and loss summary Excel spreadsheet, allowing Peña to track her total income, purchases, gross profit, net profit and total expenses for the year.
Westsiders with limited digital experience weren't the only ones seeking their services. Mariana Arrendondo showed a local high school student how to navigate a community college's website. The student, who was more fluent in Spanish than English, expressed an interest in higher education with hopes of becoming a counselor in Spanish to better serve her community. However, she knew very little about the higher education process. Arrendondo introduced her to the types of degrees offered by universities, helped her find affordable college options, guided her through enrollment and referred her to an outside advisor for further career exploration.
Seeing the personal impact that these students had on the community has been a true inspiration to Enriquez and everyone else involved with the initiative. "We want this to become personal to UTSA—not just at the leadership level but at the department level, all the way down to individuals, faculty, students and even staff so that everyone sees this collectively as our mission at the university," he says.