If someone were to poke their head into certain classrooms in the San Antonio Independent School District (SAISD), they'd notice something special. They'd see that the students aren't just learning about history or their multiplication tables in English. Throughout the school day, these students — many as young as pre-kindergarten — are conversing fully in English and Spanish with their teachers and classmates.
These students are part of the Dual Language Community Lab Schools Partnership. With the teamwork of UTSA and SAISD, the practice of dual language education is advancing and evolving — not only locally in San Antonio but as a model for others across the nation.
For years, the UTSA College of Education and Human Development (COEHD) and SAISD have upheld a relationship of community outreach with the help of Belinda Bustos Flores, associate dean for UTSA strategic partnerships, preparation and growth, and Olivia Hernandez, former SAISD assistant superintendent of bilingual education and ESL. And now in this dual language partnership, there is an opportunity to build on that success by making strides to broaden this important educational practice.
"Dual language instruction not only leads to bilingualism and biliteracy, it builds self-confidence in students."
"Dual language instruction not only leads to bilingualism and biliteracy, it builds self-confidence in students. Being able to say you speak two languages empowers students and gives children cultural, cognitive and economic advantages," says Juanita Santos, partnership executive director.
Dual language programs also allow young students the opportunity to gain a global perspective, especially as they get into their teen years and eventually adulthood, Santos said.
"What makes this Dual Language Community Lab School truly unique is its dual commitment to research informing practice and the other way around," UTSA COEHD Dean Mario Torres says. "It's extraordinary to think what is possible when schools and universities realize their mutual interests in academic success and refuse to get bogged down by bureaucracy and red tape. When children are at the center of these ideas, wonderful things happen."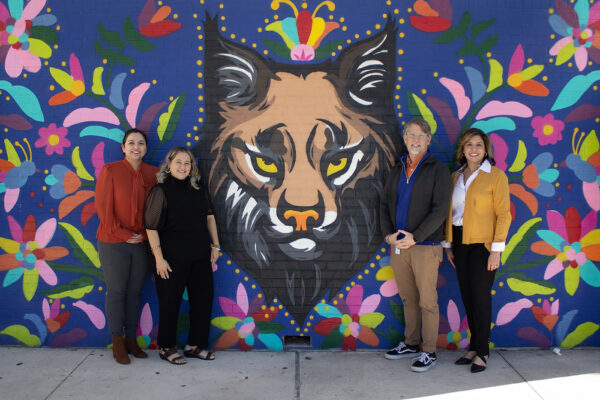 Four in-district elementary charter schools in SAISD — the James Bonham Academy, Irving Dual Language Academy, Mark Twain Dual Language Academy and Charles Graeber Elementary School — are serving as a network for how other school districts can evolve their dual language programs. The partnership is advancing the preparation of Pre-K through 8th grade teachers, principals, counselors and school psychologists at the four elementary schools.
"These schools already had existing dual language programs. The partnership enriched the model by bringing in the time, talent and resources of UTSA," Santos says. "They are learning from the best. We are growing our own."
UTSA faculty are supporting campus teachers by providing resources, professional development and working with the teachers one-on-one. Clinical teachers and graduate counseling students have also had the opportunity to expand their skills at the campuses.
"Once the clinical teachers have had a few weeks to experience the classroom, they gain this confidence," says Claudia T. Garcia, associate professor of instruction in the Department of Bicultural-Bilingual Studies, who also oversees the clinical teachers in the partnership. "They are co-teaching and co-planning with their mentor teachers. By the second semester, they are starting to take over."
Abigail Gamez '22, a first-generation and transfer student, who recently graduated with her Bachelor of Arts with a bilingual education concentration, is one of the Roadrunners who had the opportunity to be a part of the partnership.
"The partnership between UTSA and SAISD prepared me by having hands-on and in-person practice," Gamez says. "The program can help with things as small as learning how to make copies to the larger task of learning how to differentiate instruction for each student. Nothing beats actually observing and implementing these effective practices in the classroom."
With the current teacher shortage, Santos added that it's important that the partnership focuses on preparing them to not only get hired but stay for a long career in teaching.
"Clinical teachers are learning from master dual language teachers. Our goal is to turn around and offer them a teaching position," Santos says.
To advance the partnership, COEHD faculty are researching key topics that drive student outcomes, such as racial equity in STEM programs, biliteracy development in victims of childhood trauma and public health issues affected by socio-economic, historical, scientific and cultural factors.
"They are finding what it means to really bridge biliteracy, biculturalism and social cultural competency of the teachers," Santos said. "All of these topics being researched are so we can improve what's happening for emerging bilingual students."
Santos hopes the partnership's model can be replicated in other school districts beyond San Antonio in the future.
"I've had school districts across the country come to visit our campuses. They are getting some attention nationwide," Santos said. "Our hope is to teach others how to develop and sustain quality dual language models with the limited resources that different districts have."