Third-day NFL draft picks aren't supposed to do what Tariq Woolen '21 and Spencer Burford '21 did during their rookie campaigns. Players drafted after the third round usually find themselves merely hoping to make the active roster for an NFL franchise. Few of them start for NFL teams. Even fewer undoubtedly thrive in a starting role.
But Woolen and Burford did just that as rookies for rival, playoff-bound franchises on the West Coast. Burford, an offensive lineman and fourth-round draft pick by the San Francisco 49ers, started at right guard from day one of the 2022 season, bringing stability to an offensive line that many football analysts expected to be shaky in the summer.
Woolen, a cornerback and fifth-round draft pick by the Seattle Seahawks, also secured a starting role in the preseason and never looked back. He emerged as a superstar in the Seattle secondary, leading the NFL in interceptions during the regular season before being voted by fans, coaches and players to the Pro Bowl — the ultimate honor for an NFL player's individual performance.
Highlight interceptions propelled Woolen throughout his rookie season, from the Week 6 pick of Kyler Murray that sealed an important division win over the Arizona Cardinals to the Week 10 play in which Woolen leapt in front of a trick-play pass to legendary quarterback Tom Brady of the Tampa Bay Buccaneers to secure the interception. His favorite, though, was his first "pick-six." In Week 4 against the Detroit Lions, Woolen quickly identified a pass, jumped the receiver's route, intercepted the pass of quarterback Jared Goff, dodged a tackler and coasted for his very first NFL touchdown. It's a trip to the end zone that he'll cherish forever.
"In college, I only had one touchdown when I was still a receiver," Woolen recalls. "So, when I got to the end zone, I was like, 'Dang, did I really just score a touchdown in the NFL?' It was a great feeling and a great accomplishment."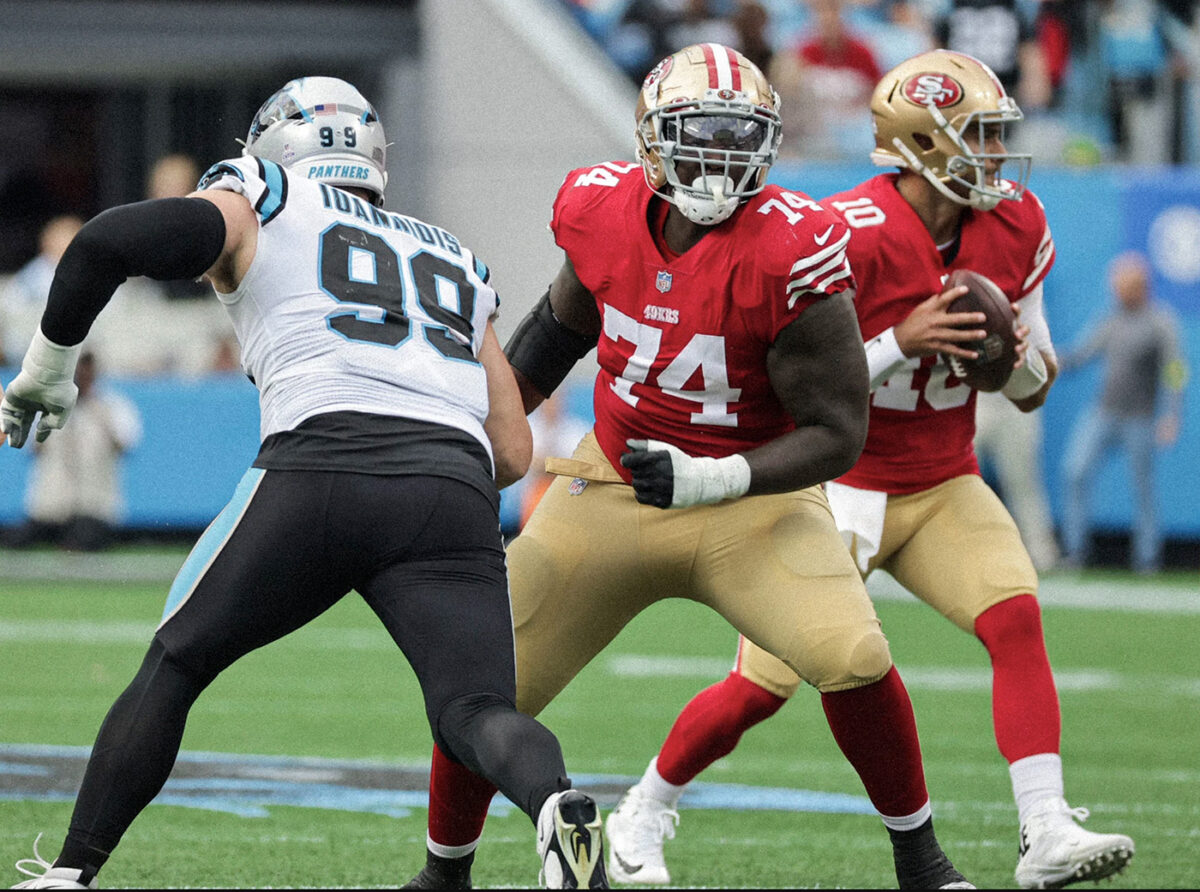 Offensive linemen don't tend to produce clips for the highlight reel, so Burford focused on something just as important as big plays: consistent performances. He produced multiple games with "clean sheets," rarely giving up defensive line pressure on San Francisco's quarterbacks. He even held up well in two matchups with three-time NFL Defensive Player of the Year Aaron Donald of the Los Angeles Rams. The rookie said he wouldn't allow himself to be intimidated when he lined up across from the future Hall of Famer.
"I knew he was a great player and I'd have to rise to the occasion," Burford says. "I knew I'd have to improve my technique and tighten down a few things. I have all the respect in the world for Aaron, but I don't fear anyone. That's not how I was brought up."
Burford tries to approach the game the same way as his 49ers teammate, offensive tackle Trent Williams, a Texas native and nine-time Pro Bowler. He trained with Williams whenever they came back to the Lone Star State and constantly asked the veteran lineman questions in an effort to learn and improve. Throughout the season, Williams frequently praised Burford's enthusiasm, aggressiveness and his passion for the game. "He really cares," Williams told reporters in September. "He's not just here because he's good enough to be. He thinks about it. You can tell he's a 'football head.'"
"I look at Trent like a big brother. He's really taken me under his wing ever since I've met him," Burford says of his relationship with Williams. "He's been playing at an elite level for many years, so why not soak up all the knowledge you can from him?"
In Seattle, Woolen was also welcomed with open arms by his veteran teammates and head coach Pete Carroll, someone he described as "a legend and a myth all in one." Woolen says he was given nothing but trust from the Seahawks' coaches and players, and that culture of confidence helped lay the groundwork for the success of Seattle's rookie class, which included cornerback Coby Bryant and running back Kenneth Walker III. Veteran safety Quandre Diggs, had an especially positive influence on Woolen, publicly calling the rookie out of UTSA "special" and a human "cheat code" because of his size and tremendous speed.
"Quandre, Jamal (Adams), Artie (Burns) and all those other guys in the room did a great job making me feel comfortable," Woolen says. "They helped me understand the playbook and gave me insight about why I should be in certain spots. Being around great vets like that, it's hard not to get better."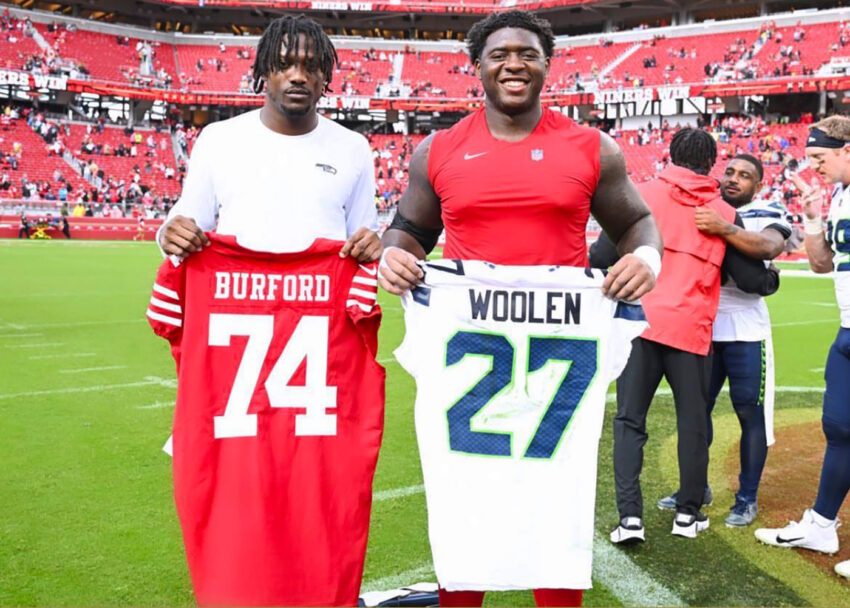 The Seattle and San Francisco communities have embraced the Roadrunner rookies in a big way. "They've shown me nothing but love since I've been here," says Burford, who's been giving back some love when he can. He and 49ers teammate Leroy Watson '21, another former UTSA standout, took part in a San Francisco mentorship academy to help teach Bay Area students about the importance of leadership skills and teamwork.
Similarly, Woolen and Bryant took a day off from practice to volunteer at Northwest Harvest's Free Community Market in Seattle. They stocked shelves at the food bank's grocer and helped promote Washington state's largest annual food drive. Woolen said he was happy to do something helpful for the folks in the Emerald City who have invested so much in him. As he saw more and more No. 27 jerseys in the stands as he emerged from the tunnel for each home game at Lumen Field, he knew he was making a lasting connection with football fans in the Pacific Northwest.
"I feel like I'm in a movie because — as a kid, and even at UTSA — I always dreamed someone would buy my jersey. It's the coolest thing ever that people are buying my jersey and wearing it," a noticeably touched Woolen says. "And it means a lot to me because it goes to show that you're actually making an impact on and off the field."
Woolen and Burford were stalwarts on the 2021 UTSA football team that shattered expectations, winning the program's first Conference USA championship. That team raised the bar for the 2022 UTSA squad, which went undefeated in conference play and brought home a second consecutive league title. After a year in the NFL, both men reflected on the Roadrunners' current stretch of success.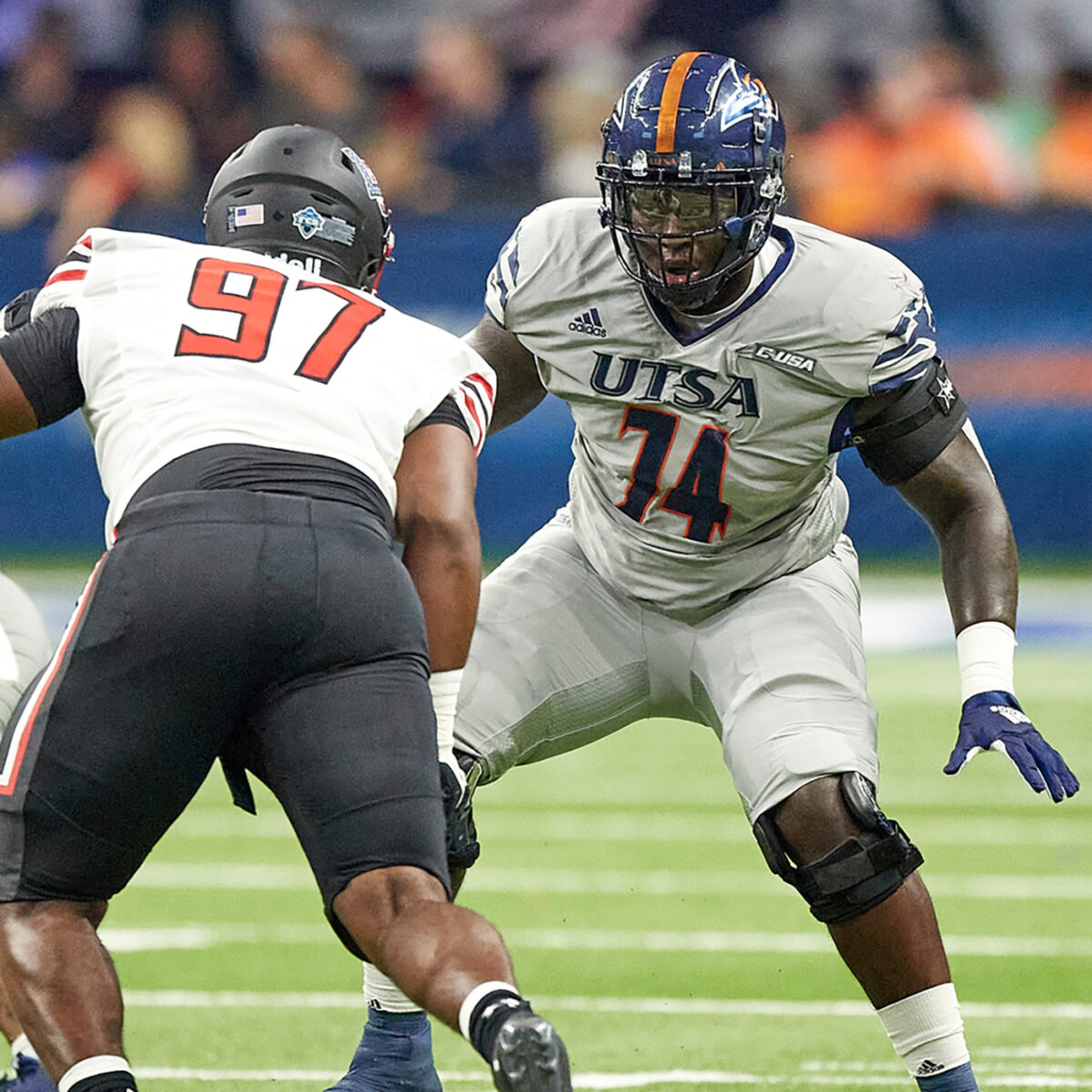 "That was the original vision when we first got there — me, Frank (Harris), Rashad (Wisdom), Sincere (McCormick) and all the local guys from San Antonio. Those are guys from our city that I grew up with. We wanted to lay a foundation for UTSA . . . When Coach Traylor came in, he installed a culture that the guys trusted in — that the guys believed in. At the back end, we won a conference championship, and I feel like there are going to be many more years to come where UTSA has successful seasons."
"It was a big stepping stone for the program. Winning the conference championship was always something I wanted to accomplish while I was there and I'm proud of what we did. To see them build off that momentum from 2021 until now, I feel like the UTSA program is going to be a powerhouse. They'll be a great team for years to come with Coach Traylor in charge. When you play for a great coach that understands the players and makes you feel like a family, it helps a lot."