When will Alexa speak everyone's language?
Anthony Rios, professor of information systems and cyber security, is studying natural language processing (NLP), a branch of artificial intelligence that enables computers to understand and interpret human language. It is used in everyday applications such as Google Translate and Amazon Alexa. His research will help develop NLP models specific to geographic populations, ethnic communities and other population-specific groups.
How can AI make cancer treatments better?
UTSA professors Paul Rad and Arkajyoti Roy, along with researchers at UT Health San Antonio and the University of Pittsburgh, are using generative AI to give physicians a clearer picture for radiotherapy cancer treatments. They're exploring how AI can improve the accuracy of adaptive radiotherapy with the hope that it can replace the current practice that clinicians use to review images and treat tumors.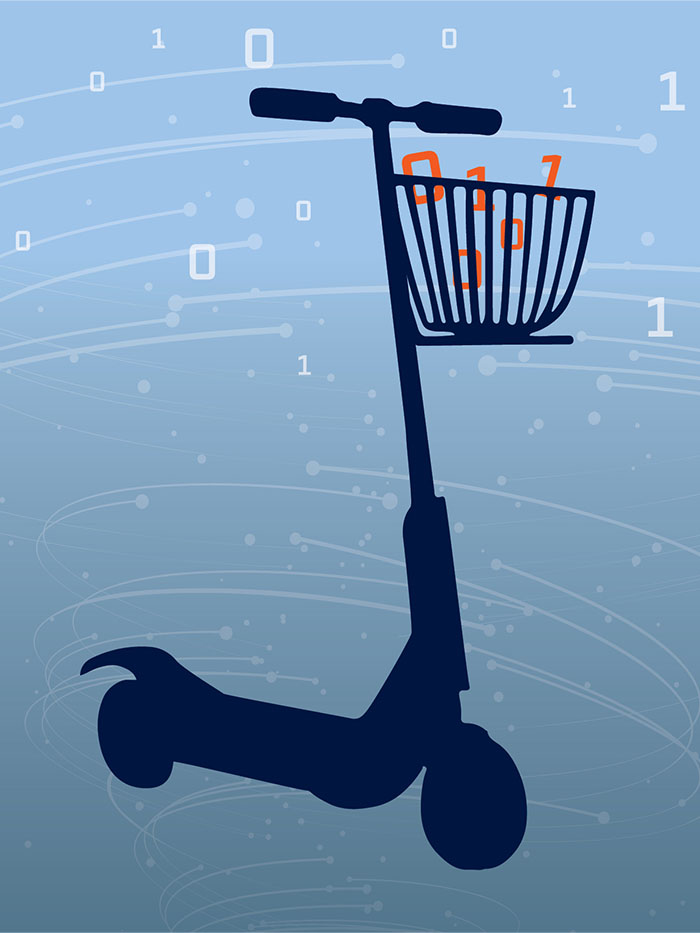 How are e-scooters at UTSA improving AI technology?
Led by computer science professor Murtuza Jadliwala, the ScooterLab is an instrumental program within UTSA's MATRIX AI Consortium. The lab has deployed e-scooters across the Main and Downtown campuses to gather data that will not only spur mobility and transportation-related research but also help make advancements in AI technology — from machine learning to computer vision to image processing.
How can people with autism benefit from AI?
UTSA established the ABAi Lab, a wearables and artificial intelligence laboratory providing precision treatment plans to improve learning among those diagnosed with autism spectrum disorder (ASD). Its findings are tailored for use in virtual reality, gameplay and other digital platforms to create greater access to treatments and standardize them. The ABAi Lab has already implemented AI to study how sleep patterns affect daytime behaviors in children with ASD.
We know AI can create, but can it perform?
Art professor Mark McCoin created the award-winning "Robotic Resonance," a developing art experiment combining sound performance with robotics. He will implement AI into the next phase of the project, allowing his robotic "performer" to learn what it's hearing and parse it out in real time. Through this project, McCoin seeks to advance a broader understanding of emerging technologies in music, performance art and the humanities.
Does using AI make human teams more effective?
There are many things that people do better than AI and many things that AI can do better than people, but psychology professor Joseph Houpt is exploring what happens when humans and AI work together. His research studies instances in which AI improves on an individual's strengths and instances in which it degrades them. Ultimately, he wants to find out more about AI's psychological effects on human teams and their performance.